FRAUD: EFCC DETAINS IBRU'S ASSOCIATE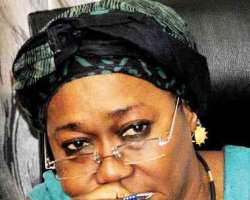 EFCC Chairman, Farida Waziri
The Economic and Financial Crimes Commission has arrested the Chairman of the Abuja Chamber of Commerce and Industry, Mr. Dele Oye, who is said to be an associate of the former Chief Executive Officer of Oceanic Bank International Plc, Mrs. Cecilia Ibru.
Oye, a legal practitioner, was declared wanted by the EFCC in August 2009, along with another suspect, Nanashetu Bedell, over their alleged involvement in a multi-billion naira fraud.
But Oye was said to have voluntarily turned himself up on May 5, after hiding from the anti-graft agency for almost a year, and is now in the custody of the EFCC in Abuja.
He was declared wanted in the wake of investigations into allegations of sharp practices in the banking sector, a development that led to the removal of eight bank CEOs and dissolution of the boards of directors of the affected banks.
Oye and some of his companies were said to have been used by Ibru, who is currently facing corruption-related trial, to allegedly siphon billions of naira from depositors' funds in Oceanic Bank and eventually launder same.