Aisha Buhari Speaking About Women's Role In Brussels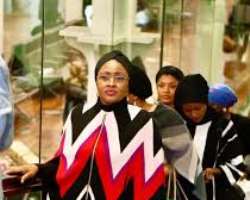 Aisha Buhari, wife of the president is in Brussels to attend a forum on
the role of women.
According to the first lady, "Heading to Brussels to attend a forum where
I will be giving the opening remark on "Women's Role in Global Security"
she said.
Clad in a fall free top and black slim fit trousers.
This would be her first public statement after her interview with the BBC.
The trip is a bold move to show that she's not a woman in a kitchen. The
wife of the president has told close associates that she's not a cook,
neither an ornament.
Pictures shows her holding her boarding pass and heading to the airport
shuttle train.
President Buhari's comments about his wife belonging in the kitchen came
just three days after the International Day of the Girl Child,  meant to
focus on the plight of disadvantaged girls all over the world. Unicef
statistics  reveal Nigeria is home to the largest number of child brides
in Africa, with 23 million girls and women having been married in
childhood, with an Emir in Katsina the president's state facing an
allegation of marrying 14 year-old recently.
The post Aisha Buhari Speaking About Women's Role In Brussels appeared first on Pointblank News .