Airtel Ghana's CSR Programme Recognised As Best In Class Across Africa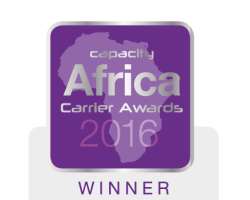 Airtel Ghana's CSR programme has been recognised as best in class as the company was awarded with the 'Best Corporate Social Responsibility Initiative' at the Africa Carrier Awards held in Kampala, Uganda during the annual Capacity Conference.
The inaugural Africa Carrier Awards celebrates excellence in the telecom industry across the continent with outstanding performance in terms of growth, innovation, Corporate Social Responsibility amongst others.
Airtel Ghana was recognised as the most socially responsible wholesale telecom service provider due to its exceptional and far-reaching efforts to integrate sustainable corporate social responsibility initiatives which spans across education, health, sports and community development into its business operations.
Airtel was also finalists for Best West African Wholesale Carrier and Best Africa Service Innovation categories.
Airtel Ghana has been a clear leader in the telecom industry in Ghana with its life transforming CSR initiatives such as the award winning Airtel Touching Lives which provides the platform to celebrate, empower and inspire individuals to make a marked difference in their communities.
Through the Changemaker Company's School Adoption programme, school infrastructure including classroom blocks, fully stocked libraries and ICT centres have been built in many communities across the country – expanding both access and quality of education. The company has also invested in building capacity of teachers and provided teaching and learning materials to boost education in the country as a whole.
Quite recently, through the Evolve with STEM initiative, championed by its CEO, Lucy Quist, the company inspires belief and focuses on transforming the mindset of young people towards Science, Technology, Engineering and Mathematics (STEM). Through this initiative, more than 2,000 pupils across 4 regions have been impacted and many organisations and individuals have been inspired to initiate their own projects to promote STEM in Ghanaian schools.
Commenting on the recognition, Hannah Agbozo-Director of Legal and Corporate Affairs at Airtel Ghana said "We are excited to be the recipients of this prestigious award. This is an affirmation of our commitment to driving sustainable, inclusive and innovative initiatives to enrich the lives of thousands of Ghanaians and to empower them to drive change within their communities. At Airtel, we believe that Corporate Social Responsibility is core to our operations that is why we continue to invest in initiatives that drive the most impact in our communities. We dedicate this award to our customers and to our employees who continue to champion our CSR agenda".
Speaking at the awards, Bill Boyle, Managing Editor of Capacity Africa said: "We are delighted that the entrants, shortlisted organizations and winners have set the bar so high for the first Capacity Africa Awards event – this ensures that the wholesale industry will have to work hard to innovate to improve on this year's list of esteemed winners. We look forward to next year's event and all of the transformative ideas it will bring."
Airtel Ghana has been won multiple awards for its leadership in driving sustainable corporate social responsibility initiatives with awards such as IPR Best community relations programme for three consecutive years, Bharti Changemaker award (gold) for two consecutive years and best CSR Company in Education at the 2015 Ghana CSR Excellence Awards.
About Bharti Airtel
Bharti Airtel Limited is a leading global telecommunications company with operations in 18 countries across Asia and Africa. Headquartered in New Delhi, India, the company ranks amongst the top 3 mobile service providers globally in terms of subscribers. In India, the company's product offerings include 2G, 3G and 4G wireless services, mobile commerce, fixed line services, high speed DSL broadband, IPTV, DTH, enterprise services including national & international long distance services to carriers. In the rest of the geographies, it offers 2G, 3G and 4G wireless services and mobile commerce. Bharti Airtel had over 359 million customers across its operations at the end of July 2016. To know more please visit, www.airtel.com
About Airtel in Africa
Airtel is driven by the vision of providing affordable and innovative mobile services to all. Airtel has 17 operations in Africa: Burkina Faso, Chad, Democratic Republic of the Congo, and Republic of the Congo, Gabon, Ghana, Kenya, Malawi, Madagascar, Niger, Nigeria, Rwanda, Seychelles, Sierra Leone, Tanzania, Uganda and Zambia. Airtel International is a Bharti Airtel company. For more information, please visit www.airtel.com , or 'like' the Airtel Ghana Facebook page via www.facebook.com/airtelgh or follow us on Twitter via the handle @airtelghana.