Buhari Group Berates PDP Propagandists Over Arrest Of Judges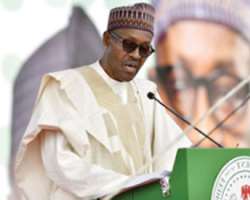 The Director-General of Grassroots Mobilizers for Buhari (GMB), Alhaji Umar Farouk Mohammed has berated the Peoples Democratic Party (PDP) and its propagandists around the country for sponsoring hate publicity against President Muhammadu Buhari and the All Progressives Congress (APC) over the arrest of a Justice of the Supreme Court and other Judges.
The group in a statement released by its Director of Media and Political Communication, Dr Fred Latimore Oghenesivbe said judicial corruption is the same as "Justice for sale" which if allowed to become institutionalised would certainly destroy the moral integrity of the Nigerian Nation and frustrate the hope of the poor and common man to get justice.
Umar averred that though Judges and Justices of the Supreme Court are special and honourable citizens, that status can only be sacred if those bestowed with such prestigious honour conducts themselves honourably and within the scope of the law and professional ethics of the Bench.
The group further asserted that criminal offences such as to "give and take bribes" must be condemned by all right thinking citizens because of the highly devastating effects of corruption in nation building.
Alhaji Umar and his group urged Nigerians to join hands with President Buhari to fight corruption at all levels saying that strategic and proactive steps within the rule of law are urgently required to curtail and curb corruption which hitherto had destroyed and still brutalising the socioeconomic pedestal and other institutions of government, lamenting that a wealthy oil producing nation within sixteen (16) years of PDP leadership became so broke to the extent of experiencing chronic economic recession.
Umar further disclosed that "breaking and entry" by law enforcement agents to search homes and properties, if denied entry is lawful in accordance with existing criminal laws in Nigeria particularly with regard to search warrants duly issued and endorsed for specific execution by authorised entities which includes Judges and Magistrates.
Umar commended some Nigerian Senior Lawyers, including two Senior Advocates, Mr Itse Sagay and Femi Falana for standing by the truth; for saying that Judges can be charged for corruption relating to crime such as collection of bribes deliberately orchestrated to pervert the course of justice.
"GMB hereby call on the Nigerian Bar Association (NBA) and the Bench to join hands with President Buhari and the APC national government to fight the monster called corruption at all levels so as to return our nation to the path of economic prosperity and relevance in the comity of nations," the statement added.