UK ELECTION: BROWN, CABINET IN CRISIS MEETING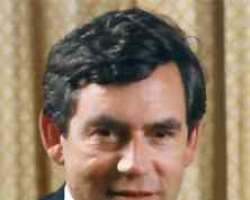 United Kingdom Prime Minister Gordon Brown's was Sunday night locked in a crisis meeting with his Cabinet as the Tories and Lib Dems moved closer to a deal that would see him out of Downing Street, Tory sympathetic newspaper, The Mail of London, has claimed.
But ,the left-of-the-centre, Observer of London, claimed that the coalition had been dramatically undermined by the leak of a top-secret letter outlining the Tory plan for a hardline Eurosceptic stance in government.
Brown, according to Mail, called his senior aides to No 10 as he battled to cling on to power amid growing calls for him to resign.
The Lib Dems and Tories were locked in coalition talks Sunday afternoon as they frantically tried to hammer out a coalition deal.
Business leaders, Mail claimed, had warned that the pound and the FTSE both face a bloodbath on Monday if the two sides cannot come to an agreement before the markets open.
Mail claimed that one of Labour's most senior figures had earlier indicated that the Prime Minister would resign if the Lib Dems and Tories were able to strike a deal.
Former Home Secretary David Blunkett said that Brown would 'do the right thing' if David Cameron and Nick Clegg were able to 'cobble together an agreement'.
'I'm absolutely certain that Gordon Brown will do the right thing, I trust him to do the right thing,' Mail quoted Blunkett said.
'On Friday afternoon he did the right thing, I thought he showed statesmanship in terms of indicating that he would continue as Prime Minister because we need a government in place, we need a Prime Minister in place, we can't have a total vacuum.'
Asked whether Brown should stand down if a Tory-Lib Dem deal was struck, he added: 'I think in a scenario you've outlined, I repeat again I trust Gordon Brown to make the right decisions.'
Mail reported that Brown on Sunday sent an email to Labour supporters thanking them for their support during the election campaign.
According to the Observer, Cameron's hopes of forming a coalition with the Liberal Democrats were dramatically undermined by the leaking of the top-secret letter outlining the hardline Eurosceptic stance he and Tory Member of Parliament, William Hague, planned to adopt in government.
The document, obtained by the Observer, is headed 'draft letter from Foreign Secretary to Prime Minister' and was written last week. It assumed an outright Tory victory and spelt out how Hague intended to adopt a tough approach to Europe at a meeting of European Union foreign ministers in Brussels tomorrow.
In the letter, compiled by civil servants but written in the first person, Hague told Cameron how his message would be that 'the British relationship with the EU has changed with our election' to one firmly against any further integration.
Exposing the massive gulf between Clegg and the Conservative leadership on Europe, Hague says he would demand the right to repatriate powers over criminal justice as well as social and employment policy during the first term of a Tory government - demands many EU leaders say they would resist.
Hague planned to tell his EU counterparts, 'Rest assured that we seek engagement, not confrontation.
But our aim is to achieve these commitments during this parliament.' He would also tell his first foreign ministers' meeting 'we will never join the euro' and conclude: 'You will find us firm but fair, playing a leading role, fighting our corner, practical and straight-talking.'
On Saturday night, the Tories said they had no knowledge of the letter. But the Observer understood that it was drawn up on the basis of detailed briefings between senior civil servants and Hague. The document came to light as Clegg, a strong pro-European, yesterday met his MPs and senior party figures to discuss a possible coalition with the Tories, who emerged from Thursday's general election with the largest number of seats but short of an overall majority.
Cameron and Clegg held face-to-face talks late on Saturday as they continued their attempts to thrash out a power-sharing deal. A senior Conservative party spokeswoman said the talks were 'constructive and amicable'. The 70-minute meeting took place at Admiralty House in Whitehall. A Lib Dem spokesman also described the discussions as 'constructive and amicable'.
Tory and Lib Dem sources said on Saturday that discussions would not conclude until this week at the earliest. An emergency meeting of the 1922 committee of Tory backbenchers was held on Sunday. Hague, Oliver Letwin and George Osborne held talks with the Lib Dems' Vince Cable, Chris Huhne and David Laws.
But the stark language used in the letter was bound to alarm Clegg, who had been savage in his criticism of the Conservatives' attitude to Europe which he believes is rooted in the past and will limit Britain's ability to fight cross-border crime and meet the environmental challenges of the 21st century.
On Sunday, the Social Liberal Forum, which represents left-leaning Lib Dems and includes a third of the party's MPs, issued a set of 'red lines' which it said the party must not cross, including any measure that would increase the gap between the rich and poor – ruling out supporting the Tory pledge to cut inheritance tax. Three other red lines were any suggestion of cuts to frontline services in the current financial year, any worsening treatment of asylum seekers and any watering-down of the human rights act.