Mc Anthony Anaelechukwu: An Audacious Ajegunle Publisher Cum Award-Event Host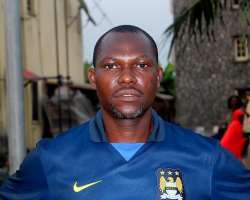 "Celebrating the excellence of a man makes him work harder in life".-Godday Odidi
Precisely, this writing came so late on Mc Anthony Anaelechukwu, a young audacious Ajegunle newsmagazine publisher, sports analyst, columnist, computer graphics expert, award-event host, social media advocate, master of ceremonies, role model promoter who honoured top 50 resourceful youths in Ajegunle community awards on the 15th of September,2016.
If you come to grassroots politics and sports in Ajegunle, Mc Anthony is one of the very best advocating for quality leadership and sports development in Ajeromi-Ifelodun over the years.
In Ajegunle media,Mc Anthony has taken a new dimension of disseminating Ajegunle news with balanced investigative stories without offending his veritable readers. He is a young man with many parts making Ajegunle a proud ghetto city.
At present, Community Watch+ is one of the fast-growing newsmagazine in Ajegunle disseminating balanced stories and promoting integrity in Ajeromi-Ifelodun politics.
He is one of the few Ajegunle newsmagazine publishers and award-hosts whose brand has become number one in the community.Hardwork, creativity and intelligence is the mirror of this noble dynamic writer cum sports analyst.
Again, for recognizing top 50 Ajegunle youths for an award event shows his total commitment for excellence in Nigeria. Having recognized top 50 schools in Ajegunle early this year, his brand is worthy of emulation to the core.
According to Mc Anthony, the purpose of this noble event and other events which I have been involving over the years is to create quality leaders that would represent Ajegunle city in positive limelight and nothing more. His media versatility in Ajegunle community is commendable and innovative.
As a trained sports journalist, his magazine is well-edited and concise and with branding advocacy of promoting Ajegunle community beyond Nigeria. He is passionate about the developmental progress of Ajegunle city. To him, life is about trying and succeeding without destructing anyone.
Finally, Mc Anthony has made a mark in the media industry over years and worthy to be celebrated by all Ajegunle entertainers. He was recently honoured with a prestigious award called Aj legendary awards by Mallam Africa Entertainment .Happily married to a peace-loving wife and blessed with God-fearing kids.
Godday Odidi
Gabrio Voice Magazine
08058124798
Lagos
Disclaimer:

"The views/contents expressed in this article are the sole responsibility of the author(s) and do not necessarily reflect those of The Nigerian Voice. The Nigerian Voice will not be responsible or liable for any inaccurate or incorrect statements contained in this article."
Articles by Godday Odidi