Ministers, Govs Unchanging Game plan: Gang up on Tinubu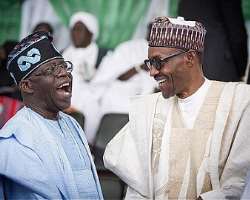 That goal got a significant boost when none of Tinubu's nominees made the Buhari cabinet. Tinubu, who received the list in company of his aides and political associates, including former Interim National Chairman of APC, Chief Bisi Akande, looked through and was so surprised that he did not utter a word.
At a quickly arranged meeting with the President, Chief Akande asked why the president rejected Tinubu and South-West leaders' recommendations for the ministerial list.
Buhari was said to have told Akande that since Tinubu produced the Vice President, others in South-West too should have a share of the appointments meant for the region.
President Buhari rejected the omission of both Fashola and Fayemi, in the list submitted by Tinubu saying they deserved compensation for their efforts during the campaign.
PerSecondNews gathered that powerful forces including Governors Nasir el-Rufai, Aminu Tambuwal and former Rivers State Governor, Rotimi Amaechi also worked hard to whittle down the political influence of Tinubu because of the risk attached to allowing him have his protégés in many positions.
It failed partially, as Tinubu's men Mr. Babatunde Fowler,was appointed as FIRS boss, while former Lagos Commissioner for Finance, Mr. Wale Edun, was appointed as chairman of the Board of Trustees of the Trust Fund for the Hydrocarbon Pollution Remediation Project (HYPREP). Buhari also appointed Senator Babafemi Ojudu as Special adviser on politics and Tinubu's media aide, Mr. Sunday Dare, as an Executive Commissioner of the Nigerian Communications Commission (NCC). Before then, Buhari had appointed a close associate of Tinubu, Mr. Pius Akinyelure, as a member of the newly constituted board of the Nigeria National Petroleum Corporation (NNPC), while Mr. Tokunbo Abiru was made the Managing Director of Skye Bank when CBN reconstituted the bank's board and management team.
But the campaign to derail the APC national leader's agenda was resurrected last week at the launching of a new book about President Buhari, titled: The Challenges of Leadership in Nigeria written by American John Paden.
Prof Paden had claimed that Tinubu, had put pressure on Buhari to be made the vice presidential candidate but was turned down.
"Buhari and his biographer, Paden lied, says Lateef Raji a former commissioner under Tinubu.
According to Tunji Bello, Secretary to the Lagos state government, "Nothing strengthens deceit more than silence. And on an occasion like this, one often wonders why some people twist events and history in order to legitimize a mission."
The mission Per Second News gathered is a coordinated scheme to scuttle Tinubu's influence in the present administration.
It is believed that minister of Solid Minerals, Mr Kayode Fayemi, Minister of Works, Power and Housing, Mr Raji Fashola, former governor of Ekiti, Otunba Niyi Adebayo, Gov Nasir El rufai and a serving southwest governor are part of the team bent on making Tinubu look ordinary going forward.
The APC leaders hitched effort to fund some local party members in the southwest states to wave off Tinubu's clout. They are undeterred by the psyche of Tinubu in politics and business circles.
This media house can authoritatively report that the politicians have begun strategising ahead of the 2019 general elections.
Perhaps, it is against this backdrop that the tempo of horse-trading, particularly in Ekiti where former governor Fayemi has polarized the party along different interest groups.
Credible information made available to Per Second News indicate that Fayemi held a meeting in Ekiti over the week-end with some party members and groups doling out cash to the party leaders.
A Tinubu ally and member of the APC at the national secretariat speaking to Per Second News under the condition of anonymity said, "We were happy when El rufai said he wanted to be governor of Kaduna, we were solidly behind him, and thought that when he becomes governor he would allow peace to reign in the party".
He described El rufai as busybody and a meddlesome interloper who is part of those tearing the party apart.
While these group of individuals have different interest one certain fact is that they are devising strategies to undercut the influence of Bola Tinubu.
Per Second News can reveal that recriminations have been built against what they described as the overarching political maneouvres by the Jagaban to teleguide the activities of the federal government.