Republicans mount pressure on Trump to quit race after video leak of obscene 2005 comments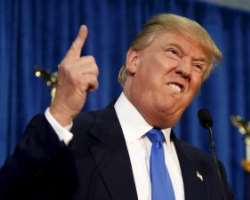 An avalanche of Republican criticism descended upon Donald Trump after a video released Friday showed the party's nominee making indefensible comments about women .
Statements from some of the leading figures in the Republican Party condemned Trump's recorded statements as unacceptable and appalling. Trump's staunchest allies have gone largely silent. House Speaker Paul Ryan publicly disinvited Trump from a Saturday-afternoon event in Wisconsin.
And an an increasing number of GOP officials have either withdrawn their endorsements or even  called for him to exit the race. Some have urged Indiana Gov. Mike Pence, Trump's VP pick, to replace the real estate magnate at the top of the ticket.
Pence released a statement of his own Saturday afternoon saying he was "offended" by Trump's crude remarks and could not defend them. "I am grateful that he has expressed remorse and has apologized to the American people. We pray for his family and look forward to the opportunity he has to show what is in his heart when he goes before the nation tomorrow night," Pence said.
The firestorm began Friday afternoon, when the Washington Post published a 2005 video of Trump caught on a hot mic with then "Access Hollywood" host Billy Bush. Among other things, Trump boasted about trying to "f***" a married woman and declared that as a celebrity, he could do anything with women, including grabbing them "by the p****."
Trump initially apologized only if "anyone was offended." But in the early hours of Saturday morning, he offered a more direct apology in a video statement released by his campaign .
That apology did little to dampen the intraparty criticism, as the statements calling for Trump to exit the race continued to pile up throughout Saturday morning and afternoon.
House Speaker Paul Ryan, R-Wis.
"I am sickened by what I heard today. Women are to be championed and revered, not objectified. I hope Mr. Trump treats this situation with the seriousness it deserves and works to demonstrate to the country that he has greater respect for women than this clip suggests. In the meantime, he is no longer attending tomorrow's event in Wisconsin." Sen. Majority Leader Mitch McConnell, R-Ky.
"These comments are repugnant, and unacceptable in any circumstance. As the father of three daughters, I strongly believe that Trump needs to apologize directly to women and girls everywhere, and take full responsibility for the utter lack of respect for women shown in his comments on that tape." Sen. Ted Cruz, R-Texas
Ohio Gov. John Kasich

"Nothing that has happened in the last 48 hours is surprising to me or many others. Many people were angry and questioned why I would not endorse Donald Trump or attend the Republican Convention. I've long had concerns with Donald Trump that go beyond his temperament. We have substantive policy differences on conservative issues like trade, our relationship with Russia, and the importance of balancing the federal budget. I've held out hope that he would change on those disqualifying policy positions, but he has not. I've also encouraged him to change his behavior for the better and offer a positive, inclusive vision for our country, but he has not.

It's clear that he hasn't changed and has no interest in doing so. As a result, Donald Trump is a man I cannot and should not support. The actions of the last day are disgusting, but that's not why I reached this decision, it has been an accumulation of his words and actions that many have been warning about. I will not vote for a nominee who has behaved in a manner that reflects so poorly on our country. Our country deserves better."

Mr Trump's 2005 comments, posted by the Washington Post , overshadowed the release of transcripts of Mrs Clinton's speeches to private events, by the whistle-blowing site Wikileaks. Media caption Trump apologises for lewd comments and vows to be a "better man"

On Saturday New Hampshire Senator Kelly Ayotte became the latest Republican member of Congress to say she would not be voting for Mr Trump.

"I cannot and will not support a candidate for president who brags about degrading and assaulting women," she said in a statement .

Ms Ayotte – who faces a competitive race for re-election – said she would not vote for Mrs Clinton but instead would "write in" Mr Pence, on her ballot paper.

Reports in the US media suggest that Mr Pence no longer plans to attend a campaign event in Wisconsin alongside House Speaker Paul Ryan.

Mr Ryan – the most senior elected Republican in the US – had originally invited Mr Trump to the event but rescinded his invitation, saying he was "sickened" by what he had heard. Mr Pence was due to go in the presidential candidate's place.

Senators Mike Crapo of Idaho, Ben Sasse of Nebraska and Mike Lee of Utah were among the elected Republicans calling on Mr Trump to abandon his candidacy.

"Women have the power to stop Trump," Mrs Clinton wrote on Twitter , and released a video featuring the latest audio, playing over footage of women and girls.

The second TV debate between Mr Trump and Mrs Clinton will take place on Sunday evening in St Louis.

Mr Trump recently said he would not bring up stories about Bill Clinton's infidelities in the debate, after previously threatening to do so.

But in his video apology, he attacked the former president directly:

"Bill Clinton has actually abused women, and Hillary has bullied, attacked and shamed his victims.

"We'll discuss this in the coming days," he said. "See you at the debate on Sunday."

Mr Pence said the debate would be an opportunity for Mr Trump "to show what is in his heart when he goes before the nation". Is this Trump row different? – Katty Kay, Presenter, BBC World News
Image copyright REUTERS Image caption Former Miss Universe Alicia Machado has spoken out against Mr Trump

The day after a video emerged in which he suggested he could have any woman he wants because he's a star and so could just grab them by the pussy, Mr Trump is in a whole ocean of hot political water.

Enough, quite possibly, to sink any chance he had of winning the White House.

There is a violence in the phrases "grab 'em by the pussy" and "you can do anything" that any victim of abuse would recognise and that most women would find sickening.

But this tape doesn't just offend women, judging from the reaction in the Republican party. It has offended a lot of men too. Whether those men will now withdraw their endorsements of him is yet to be seen.

Yahoo News with BBC