APC Youth Network Akwa Ibom: A Group For Political Fawners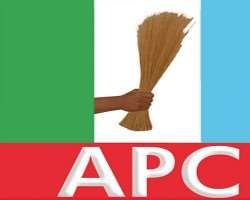 It is disheartening and perturbing to read that a group named APC Youth Network Akwa Ibom could write an open letter to discredit Asiwaju's call for Oyegun's resignation, the open letter was titled 'Asiwaju Bola Ahmed Tinubu, leave Oyegun Alone' and it was published on the 28th of September, 2016 on a news blog, it is extremely laughable that a faceless and microscopically few retrogressive youths in Akwa Ibom could be casting pejorative stones to the political powerhouse in Nigeria, Asiwaju Bola Ahmed Tinubu, Jagaban Borgu, the strong foundation, on which what is known as the first political party in Nigerian history, to oust out the incumbency of the then ruling party PDP, a party with excellent record of maladministration, was built.
I initially ignored this blatant fallacious accusations against Asiwaju, because the points raised in the open letter lack facts, but if the unjust accusations against Asiwaju by this group of retrogressive youths in Akwa Ibom are not adequately responded to, then I have betrayed the believe I have in the true democrat called Asiwaju and this is one crime I never intend to commit, it is my duty as a loyal progressive youth not a footlicker, toady or sycophant to educate the ill-informed and faceless youths with a group named 'APC Youths Network Ackwa Ibom' on why they have to tender unreserved apology to the national leader and builder of APC, Asiwaju Bola Ahmed Tinubu.
The group made a fallacious claim that Asiwaju wanted to replace former Governor of Lagos State Batunde Fashola in the 2011 election with Hon. Ikuforiji, the former speaker of Lagos State house of assembly, this group from Akwa Ibom failed to furnish with lucid details on why Asiwaju would have done that, when he once said in one of the interviews he granted, that the super minister and former governor of Lagos State Bar. Babatunde Raji Fashola (SAN) performed better than he did, its ludicrous and risible to read from their open letter that Asiwaju also foisted Ambode on Lagosian, it is an indisputable fact that Asiwaju is a force, to be reckoned with as far as Lagos State politics is concerned, Ambode was never foisted on Lagosian and he won in a free and fair primaries and after the primaries, the main opposition party in Lagos state PDP, that supposed to make this baseless accusation that was erroneously stated in your open letter, couldn't help but congratulated Ambode. make findings on this because it is in record that the former PDP chairman in Lagos Captain Tunji Shelle congratulated Ambode after he emerged as the governorship candidate for APC, this was unsual but commendable considering the angle it came from, but after two years a group of unrefined and uncultured youths from Akwa ibom that claimed to be in the same party with Asiwaju and Ambode now claimed Asiwaju foisted Ambode on Lagos, please get your facts right.
The group also ignorantly said "he did it in Kogi with Faleke", but sadly they never mentioned, what Asiwaju did that was constitutionally detrimental in Kogi's controversial election, for the purpose of educating these sycophantic youths, Faleke was nominated to be a running mate to late Abubakar Audu by Asiwaju, been that Faleke is from Kogi though he resides in Lagos, Faleke worked relentlessly for APC in Kogi during the last governorship election in Kogi and he deserved to fight for what he felt belong to his team, but after so much legal battle, Nigerian constitution didnt favour him, and that made Yahaya Bello to become the governor. Faleke laboured in vain, Bello that campaigned against APC after the primaries is now the Governor, glory be to a faulty constitution. Yahaya Bello did not participate in all the campaign rallies by Late Prince Abubakar Audu and Faleke, he willingly refused to participate in the electioneering campaign of late Prince Abubakar Audu and James Faleke. Yahaya Bello lost to the opposition party in his local government, he lost to the opposition party in his ward, he lost to the opposition party in his polling unit.
He did everything humanly possible to see that APC never won in Kogi, he refused to attend the flag off at Okene his own local government whereas the vice president Yemi Osibanjo, APC party leaders participated, all because he lost the primaries. Pa. Oyegun the party national chairman, that was supposed to intervene in the crisis when Faleke wrote him twice on why he deserved to be the next Governor of Kogi, showed no interest and this didn't go down well with Faleke, the family of the deceased and their supporters. Oyegun should have played a fatherly role and resolved the issue internally, because the main reason why Falake sough the legal means to ensure he became the governor was as a result of his party's negligence toward his plight, despite the fact that he was instrumental to the victory the party is enjoying in the state today. The national chairman that supposed to call all affected parties, never deem it to do so, Oyegun lacks the ability to resolve party issues and this faceless Akwa Ibom APC youths can't claim otherwise.
In his open letter to Mr. President, Mr. Timi Frank the Deputy national secretary of the party has this to say against the national chairman, Pa. Oyegun, he said "This allegation of bribery raised by Asiwaju Tinubu as regards the recent Ondo governorship primaries should be of concern to all well-meaning party leaders and elders and should not be swept under carpet or taken of levity and he said further
"the episode of the recent Ondo primaries is just one case too many befalling the APC under the leadership of Chief Oyegun and I'm therefore challenging Chief Oyegun to tell Nigerians if he has been able to mediate over any crisis that has been successful. As far as I am aware, APC under Oyegun has not been able to resolve any crisis in the party since we became the ruling party"
This was coming from a youth from the south-south the same region where Akwa Ibom is geographically located. A progressive youth that want the best for APC as a party, will support the call for Oyegun's resignation, this is where your claim of been an APC youths in Akwa Ibom calls for serious concern.
What transpired in Ondo State its another litmus test, that has proved that the septuagenarian is been propelled like a pendulum in a wall clock by unscrupulous forces within the party, that are hell bent in destroying the party, I believe this group of footlickers from Akwa ibom are playing out the script of their mentors, but fact still stand, the progressive youths will never be part of this injustice.
Asiwaju having a candidate in any primaries, Ondo state inclusive, shouldn't be blown out of proportion, since no section of the party's constitution is against a party leader endorsing a candidate for any political office. Asiwaju endorsed a technocrat per excellent but when the election was decleared for Akeredolu, Tinubu was among the first group of national leaders of the party to congratulate the winner, but when glaring revelations emerged on how the primary election was stage-manged and how 383 delegates were padded into the Ondo primaries that has been termed 'free, fair and fraud' he couldn't keep calm, he has to voice out, that to me is not imposition, the question is why did Oyegun submit Akeredolu when the National working committee, a committee saddled with the right to conduct the primaries, has recommended that another election should be conducted, after vivid irregularities were discovered in the primaries that produced Akeredolu?
For the purpose of ensuring the interest of the people of Ondo prevailed, NWC conducted a voting exercise and 6 supported the idea for a fresh primary election while 5 wanted Aketi to remain the party candidate, automatically there should be a fresh election but instead Pa. Oyegun made us to accept the erroneous decision that 5 is greater than 6 and he submitted Akeredolu's name to INEC and funny enough a so called progressive youths in far away Akwa Ibom have been seen supporting this devilish, criminal and corrupt act perpetrated by Pa. Oyegun the man that supposed to safeguard the interest of all party members, sadly he has been compromised, its quite unfortunate we now have young generation trailing this shameful and disgraceful path.
If political profile is anything to go by, having Oyegun as the chairman of a party as big as APC is calamity waiting to befall the party, his political record as the national chairman of ANPP is still as fresh in our memory, as September 11 bomb blast. A national chairman that has lost grip in his state can never manage a national party sucessfully, the last election in Edo has further buttressed the fact that Oyegun's managerial skills are old fashioned and politically he should have resigned long before now, as small as unit is, Oyegun couldn't deliver it to APC in the last governorship election in Edo State, he wouldn't have become the national chairman of APC if not for the support he enjoyed from Asiwaju.
Asiwaju's call is just a reminder and the progressive youth league is reinterating it again that Oyegun should resign for the interest of our party and we urge the Akwa ibom APC youths to desist from been footlickers of selfish politician like Oyegun, the septuagenarian has severally shown that he lacks the capacity to manage APC, let him resign honourably.
Thanni Kamil Opeyemi
Lagos State PRO
Progressive Youth League
+2347062715840