Youths Define Your Future Direction, Don't Mind Peter Obi—APGA Nat Chairman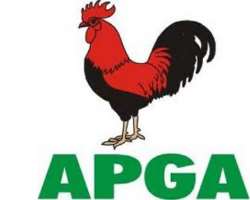 You can't guarantee the safety and estimated time of arrival for someone driving to Lagos with a reverse gear. Some ignorant people have chosen to enter politics with reverse gear and it is very unfortunate in this 21st century.
Like Winston Churchill said and I quote again " If you continue to throw stones at every dog that bark on your way, you cannot reach your destination"
Let the PDP make the noise, let APC clap their hands, let other mushroom political parties lament, all we know is that Anambra cannot go back to the days of thuggery and kidnapping.
Youths should engage themselves to something meaningful in other to shape their future because dwelling in the past with politicians that have no direction is a complete disaster for them.
Whoever that has the ball in the field is the one that is being tackled. Gov OBIANO has the ball and he is playing well with the ball. Continue the tackle and remember that double yellow card or red card awaits the offender. Willie is working.
Define your future direction Now.
Owelle Mbaso - 2016
2: Don't mind Peter Obi - APGA Nat Chairman. Dr. Victor Ike Oye.
Don't mind Peter Obi - he is too self-righteous. We are insiders in the system and saw the secrets of his life as governor. For almost 8 years of his tenure, he didn't conduct LG elections. He only did a few months to his exit as governor. What happened the billions that accrued to the councils within this period? Ditto for provision of infrastructure. He mentioned roads.
Was that all that were needed for the 8 years he served as governor when Nigeria had oil boom and price of oil hovered between 100 and 130 dollars per barrel? That was the opportunity he had to make Anambra great. Could you believe he owed workers in the state Water Board for the 8 years he served as governor. They were owed one year arrears of pay before Obi came.
What wickedness! It Gov. Willie Obiano that cleared the arrears and has continued to pay them and other civil servants every 25th of the month till date.
I state boldly that if it had been Peter Obi as governor Anambra State would have run into storm. He wouldn't have been able to pay salaries let alone provide other social amenities at this critical time of recession. What was security like during his tenure? Rich men and women deserted the state for dear life. Kidnapping and other crimes had their headquarters in Anambra State.
Investors ran away. Marriages and other social functions were held either in Lagos or Abuja. Life was simply brutish in the state then.
It was when Gov. Obiano came that things changed. He chased the kidnappers and armed robbers away from the state. Today Anambra State is the safest state in Nigeria. Investors are trooping back into state. Look at Awka the state capital! It looked like a local government headquarters during Obi's tenure.
There wasn't a single major developmental project executed in Awka by Obi's administration. But today Awka is undergoing a serious transformation. Apart from the aerial mapping of the City the administration of Gov. Obiano built three standard flyovers in less than 12 months. In addition, he has built the longest bridge in the state to get to the oil exploration sites and connect the state to Kogi and Enugu states.
How many workers did Obi promote throughout his tenure? But Gov. Obiano has promoted many workers and increased their salaries by 15% across board. He has also continued to pay salaries, pensions and gratuities as due. As I write workers in the state were paid their salaries for September 2016 on Saturday, September 24. There is no other state that discharges this statutory obligation as promptly and religiously as Anambra.
Because of the absence of development at the grassroots under Peter Obi his successor Willie Obiano has approved the siting of a N20m project ( chosen by the people themselves) in each of the 179 communities in Anambra State. The contractor and workers for each project must come from the community in which it is sited. This will catalyse development in the rural communities and bring government nearer to the people.
What sense does it make to save money, while neglecting basic and statutory obligations to the people?
To further cushion the impact of the ongoing recession on the people of Anambra State, Gov. Obiano announced some stimulus package two weeks ago. The package has restored confidence in government and lightened the burden on the people.
There is no comparison whatsoever between Obi and Obiano. Obiano is miles apart from the miserly Obi who was saving money( if it is true), while his people lived in squalor, died of hunger and neglect, tormented by robbers and kidnappers.
Obi has served out his tenure as governor - it is only fair and natural he allow Obiano to work unhindered. Going about disparaging the person and office of the governor of Anambra State is a great disservice by Obi to Anambra people.
We have implicit confidence in the ability of Gov. Obiano to deliver the goods and turn Anambra State into the new Dubai of Africa. No amount of sanctimonious disposition by Obi will obliterate the fact that, though he did his best, Anambra State would have fared better if he had managed the resources under him as prudently as he has always claimed.
Gov. Willie Obiano is working and the people are very happy.
Owelle Onyeka Mbaso
SSA Political to Gov. Obiano
Support Gov. Obiano's Administration and APGA
Willie is Working, QED.