JAAIDS parleys with media on gender-based reporting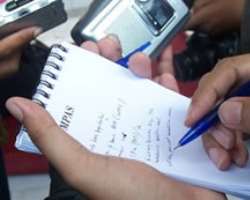 Journalists Against AIDS (JAAIDS) Nigeria in association with the World Association for Christian Communication (WACC), has ended a three-day workshop in Lagos organised for media professionals, NGOs and key stakeholders working on gender-related issues.
The workshop is a part of JAAIDS' one year project that seeks to address the culture of silence around gender-based violence issues and foster informed discussions through social and traditional media platforms.
The project objective is to reshape media portrayal and public understanding of gender based violence issues in Nigeria.
It is also aimed at improving multi-stakeholder collaboration, forging partnerships as well as jointly developing appropriate action plans to address communication barriers hampering efforts in addressing these issues.
The project is being undertaken at a time that gender based violence is on the increase in Nigeria and globally, which has made innovative responses to the problem quite compelling.
Mrs. Olayide Akanni, workshop coordinator, said the goal of the project is to support the emergence of a sustained and vibrant media response, utilising its various channels to create an enabling environment for informed public dialogue and action against gender based violence in the country.
She expressed optimism that increased multi-stakeholder collaboration would lead to the emergence of a collective response to key gender based issues in Nigeria.
She pointed out the need for the media reports to protect the identity of victims of gender based violence to save them from double jeopardy of social stigma and permit quick recovery from trauma.
Categorizations or descriptions that expose children to negative reprisals, including additional physical or psychological harm and to lifelong discrimination or rejection by their local communities need to be avoided, she said.
'Reporting gender based violence demands special care and increased ethical sensitivity. It requires specialised interviewing skills, understanding of the law, and basic awareness about the psychological impact of trauma', Akanni said.
Mrs. Juliet Olumuyiwa-Rufai of Mirabel Centre/Partnership for Justice, agrees that there is need to pay increased attention to helping victims recover from trauma and one major step in this respect is the application of proper counseling/interviewing skills that help victims see options and ask for and receive support.
In her presentation at the workshop, Dr. Princess Olufemi-Kayode, Founder, Media Concern Initiative for Women & Children, identified the forms of gender based violence as physical, sexual, emotional/psychological and economic and stressed the understanding of the resulting trauma victims are subjected to while reporting the incidents of such violence.
In respect of reporting gender based violence affecting children, she urged the media to take greater interest in projecting positive stories of survivors who have become advocates and agents of change as testimonies to encourage victims.
She also stressed the need for the interest of victims and their protection to be taken into consideration while reporting, total avoidance of judgmental language as well as any details that could put them at further risk.
Barr. Josephine Odikpo, principal partner, Odikpo, Okpe and Associates considered gender based violence related laws in Nigeria and said that while the laws have the power to deter abhorrent behaviour, such power is only exercised when enforcement agencies are proactive, citizens are vigilant and work hand in hand to monitor and also provide feedbacks that strengthen laid down structures.
She noted that there are laws in place, including the latest Violence Against Persons Prohibition Act 2015 and there are enforcement agencies but the legislative enforcement remains weak. Many instances where cases are not prosecuted as a result of the unwillingness of law enforcement agents to do so do not encourage victims to speak up when they are abused and they are often subjected to trail by ordeal before they are attended to, she said.
The Domestic and Sexual Violence Response Team [DSVRT] of the Lagos State government is described as the most coordinated approach to sexual and gender based violence in Nigeria.
Mrs. Bola Akingbade of DSVRT, in her paper presented at the workshop, said the establishment of the team in 2014 was necessitated by the increase in formal and informal reporting of incidents of rape, defilement, domestic violence, child abuse, neglect and maltreatment in the state.
She said majority of victims are actively discouraged from pursuing justice, making perpetrators to often act with impunity.
Other issues that warranted the establishment of the team include lack of resources to properly investigate sexual and gender based violence cases, lack of effective coordination across agencies and lack of adequate support services in place, Akingbade said.
DSVRT presently provides coordinated responses and creates levels of collaboration among professionals working to end gender and sexual based violence in Lagos State. It responds as a group to the two critical needs of domestic and sexual violence victims – support and justice.
Its major objective is to restore public confidence in the legal system by ensuring justice is served timely.
According to Akingbade, priority areas for DSVRT include creating awareness among stakeholders of their respective contributions to the fight against sexual and gender based violence, creating public awareness of the role and functions of agencies and facilities established to address such violence and what steps the victims should take.
Others include better investigation and prosecution of sexual and gender based violence cases and advising policy-makers on the development of a more victim-centred approach to the tackling these cases, she said.
Akingbade said collaboration with the media is critical to the operations of DSVRT, especially in creating public awareness as to what victims of SGBV should do and where they should go.