Gunmen abduct wife of CBN governor, demand N100m ransom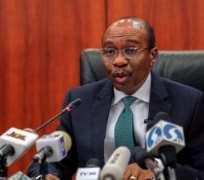 Wife of Godwin Emefiele, Governor of the Central Bank of Nigeria, Margaret has  been kidnapped along the Benin-Agbor Road.
The kidnappers  are demanding N100 million for her release, though a report by Sahara Reporters put the figure at N1.5 billion. Her  captors have reportedly  been in communication with Mr. Emefiele. Contrary to earlier reports, Mrs. Emefiele was abducted alongside four other people were abducted including two other females, a male, and her driver.
It has also been learned that Mrs. Emefiele had a four-man police detail attached to her. However, when the police were confronted with the superior firepower of the kidnappers they ran away, leaving her and the other victims in the hands of the criminals.
Since her abduction, the kidnappers have been in constant communication with Mr. Emefiele, his representatives, and police negotiators. They are reportedly discussing the N1.5 billion ransom demand.
"Though for their security I will not disclose those with the wife of the Governor (Godwin Emefiele), I can tell you that five other persons were kidnapped along with her.
"They are her driver and four other women with whom she was travelling," a police was quoted to have said.
 The Inspector General of Police Intelligence Response Team has been deployed alongside other crack detectives of the Nigeria Police to rescue the victims.
Meanwhile, the kidnappers were said to have reached out to the Emefiele family demanded a ransom of N100 million.
According to a top police officer in the Office of the Inspector General of Police, Ibrahim Idris, the abductors vowed not to release their victim until the ransom is paid.