BAFTA Welcomes Nollywood For The FIRST Time With The European Premiere Of Obi Emelonye's Oxford Gardens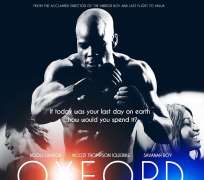 In a remarkable first for a Nollywood film Obi Emelonye a lawyer-turned filmmaker from London premieres his small low-budget, boxing-themed movie Oxford Gardens at the British Academy of Film & Television Arts (BAFTA) HQ.
Despite a cinema tradition of over 60 years and recent strides in diversity and equality, a Nollywood film has never shown at BAFTA HQ. Obi Emelonye, who has been called '...the future of African cinema..' by CNN and has been profiled on the iconic series CNN African Voices ( http://t.co/t1djoX52 ) breaks down barriers in this remarkable first for both Nollywood and BAFTA.
The eagerly anticipated European Premiere of this NAFCA multi-nominated boxing themed drama takes place Friday30th Sept 2016 on the eve of Nigeria's 56th Independence celebrations on the UK's most prestigious private screen, the Princess Anne Theatre.
In the aftermath of last season's controversies surrounding the lack of diversity and inclusivity at both the OSCARS (#OscarsSoWhite) and BAFTA (#BaftaBlackout); and with media headlines such as 'If the Oscars' record on recognizing minority talent is bad, the BAFTAs are worse', ( https://goo.gl/bKxm82 ) is this Premiere a milestone for how far the mainstream has come to opening itself up to ethnic minorities?
A few weeks after the prestigious Toronto International Film Festival featured a bouquet of films made in Lagos, Nigeria, a boxing-themed African film makes it to the home of British cinema in a move that mirrors a growing acceptance of Nigerian cinema into global cinema culture.
Oxford Gardens is an inspiring love story wrapped in boxing gloves. Julius (Ngoli Okafor) is a broken, down-­on-­his-­luck ex-­boxer, living his life on the edge, but in desperate search of redemption. Munachi (Ngozi Thompson Igwebike) is a pretty, bubbly young girl carrying a dark secret. A chance meeting on a park bench in Oxford Gardens one summer afternoon sets in motion an unlikely friendship and an uplifting journey through their respective fears.
Oxford Gardens stars gorgeous model turned Nollywood movie starlet Ngozi Thompson Igwebike alongside legendary ex Golden Gloves champion and the internet's most downloaded male model, now tuned actor Ngo Okafor who is jetting in from LA to attend the European Premiere. Together they deliver knock out performances that helps set Oxford Gardens apart in the ever evolving new Nollywood movie landscape.
Speaking on the movie's storyline, Mr. Emelonye said. "Once in a while, a simple film comes along to shake up African cinema. The Mirror Boy did that in 2011, and I have a feeling that Oxford Gardens may have a similar impact. The movie explores new exciting themes and takes fight action to a whole new level for Nollywood. I am really excited about this film and I am grateful for the huge support I received from Africa Magic in making it happen
Boxing films over the years have been very successful globally and they stir potent emotions in audiences. Wrap that up within a heartfelt love story and it takes a real champion to hold back the tears by the time the final bell rings"."
Known for setting new landmarks in Nollywood cinema, Obi Emelonye has teamed up for a second time with Africa Magic Original Films, the movie studio arm of Africa Magic (Africa's No.1 television network)
A thrilling glamorous red carpet night will mark a new zenith in new Nollywood premieres with Tunde Ogungbesan, BBC Head of Diversity, Inclusion and Succession and other top industry executives in attendance.
PREMIER TRAILER - http://ow.ly/C7a0303S2e5
OFFICIAL TRAILER - http://www.youtube.com/ObiEmelonye
OFFICIAL IMAGES - http://ow.ly/Q8jD303S4Bc (download from Facebook)
FACEBOOK http://www.facebook.com/OxfordGardensMovie
TWITTER http://www.twitter.com/Oxford_Gardens
YOUTUBE http://www.youtube.com/ObiEmelonye
WEBSITE http://www.thenollywoodfactory.com
OBI EMELONYE - One of Nollywood's most visionary filmmakers
NGO OKAFOR- Ex Golden Gloves Champion and US based male supermodel
NGOZI IGWEBIKE-THOMPSON - Model turned Nollywood actress
CHARLES THOMPSON MBE - Consulting Producer
THE NOLLYWOOD FACTORY - One of new Nollywood's leading production houses
AFRICA MAGIC - Africa's most progressive broadcaster
SCREEN NATION MEDIA - Marketing & Distribution Consultants for the biggest new Nollywood film premieres in the UK, Nigeria and Ghana.
BAFTA 195 PICCADILY- British Academy of Film & Television Arts Headquarters and private members club
Toronto International Film Festival - considered one the world's leading independent film festivals
Nollywood - Nigeria film industry
NAFCA - Nollywood African Film Critics' Awards
CNN Profiles of Obi Emelonye
CNN African Voices http://t.co/t1djoX52
Last flight to Abuja interview http://t.co/BHocloSn
Last flight to Abuja premiere feature http://goo.gl/tMmxO
SALON article https://goo.gl/bKxm82