Governor Okorocha Appoints Imo's First Lady As Head Of Amnesty Committee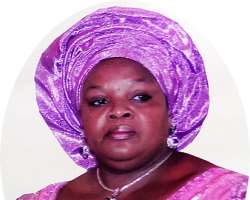 Rochas Okorocha, the Imo State governor, has appointed his wife and first lady of the state, Nneoma Nkechi Okorocha as chairperson of the Amnesty Committee to take care of alleged militants who have given up their arms in the state.
Following the surrendering of arms and embracing of peace by militants fighting in the oil producing areas of Ohaji/Egbema and Oguta, the state governor, Rochas Okorocha, has inaugurated the Amnesty Committee, and two others, including the Committee on the Review of the Activities and Infrastructural Development of state owned higher institutions, Vanguard reports.
Governor Okorocha also set up a technical committee for the take-off of the Eastern Palm University, Ogboko, Imo State.
The Eastern Palm University was built through Public and Private Partnership (PPP) and the chairperson of the 7-person technical committee is Ambassador Nonye Rajis Opara.
Inaugurating the members of the amnesty committee, Okorocha charged them to come up with ideas that would ensure the sustenance of the recently restored peace in the oil producing areas of Ohaji/Egbema and Oguta.
The governor further requested that the committee should address all the issues that the militants who handed over their weapons raised when they surrendered. The amnesty committee has three months to submit its report.
The amnesty committee was also asked to write to the oil companies not to deal with the communities or traditional rulers again without the approval of the state government, with the committee also directed to meet with all the relevant bodies and persons.
Acho Ihim the speaker of the Imo State House of Assembly, is the chairman of the committee on the review of the activities and infrastructural development on state owned higher institutions, with fifteen other members. And the committee has been asked to review the movement of certain faculties and departments of the Imo State University to Aboh Mbaise/Ngor Okpala campus of the University.
The committee was also charged to reconsider the location of the Imo State University Teaching Hospital (IMSUTH) and its viability in Orlu and the location of the main campus of the university in the state's capital, Owerri. The committee is expected to find out whether IMSUTH won't be more useful to our people if located in Owerri.
The committee was given three weeks to submit its report on whether is advisable to take the main campus of IMSU to a more serene location suitable for university education and where it would have the opportunity of expanding as time goes on
The governor charged the members of the committees to demonstrate high level of patriotism in carrying out these assignments, in the overall interest of the state and her people.