BAN, UN DIPLOMATS PAY TRIBUTE TO YAR'ADUA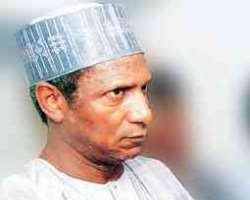 Late President Yar'Adua
Diplomats at the United Nations have been paying tributes to former President Umaru Yar'Adua, who died on May 5, the News Agency of Nigeria reports.
UN Secretary-General, Ban Ki-moon personally visited the Nigeria House in New York to sign the condolence register at the office of the Deputy Permanent Representative.
Ban, who visited at about 6 p.m. on Thursday, wrote: 'He will be long remembered for his leadership efforts for peace, stability and development in Nigeria.'
On Friday, the Algerian Permanent Representative to the UN, Amb. Mourad Benmeihidi, described Yar'Adua as 'a great statesman who led the sister country of Nigeria on the path of progress and peace.'
On his part, the Sudanese Ambassador to the UN, Abdalmahmood Mohammed, wrote: 'It is a loss not only to Nigeria but also to Africa and the world.'
The Pakistani Permanent Representative to the UN, Amb. Abdullah Harron, while consoling the government and people of Nigeria, said, 'Our thoughts and feelings are with you all in this hour of grief and sorrow.'
Mr. Abdul Wahab, the Permanent Observer, Organisation of the Islamic Conference (OIC) said that 'knowing his policies and vision, we regard this as a big loss for Nigeria and Africa.
'The OIC reiterates its solidarity with the people of Nigeria on this sad occasion.'
NAN reports that representatives from Zambia, Lebanon, Djibouti, Oman, Hungary, Cuba, Malta, Mali, Romania and the U.S. were among the countries that signed the condolence register on Friday.
Yar'Adua was buried on Thursday in Katsina according to Islamic rites.