Budget padding: £1.558m traced to Jibrin's secret UK bank account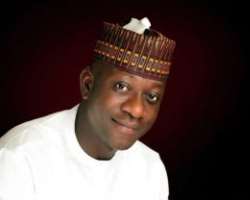 A secret account allegedly belonging to erstwhile chairman of the House of Representatives committee on Appropriation, Hon. Abdulmumin Jibrin, has been exposed.
Documents released by the Head, anti-corruption unit of the National Youth Council of Nigeria (NYCN), Ifeanyi Okonkwo, linked Jibrin to a foreign account with ING Bank Channels Island, United Kingdom.
Details of the account indicated that Abdulmumini has a total of £1.558 million pounds (N825 million equivalent) in the account, deposited between June 1st 2016 to June 30, 2016.
The sum of £623.44 was withdrawn within the one month period bringing the balance in the account to £1.376,193.84.
The bank is said to be located at Forum House, Grenville Street, St-Heller, Jerssy JE2 4UF, Channels Island United Kingdom.
Jibrin allegedly opened the account with his address at 453 Crankbrook Road, Ilford Essex IG2 6EW. Efforts to contact Hon. Jibrin proved abortive as he failed to pick up his calls or reply to the SMS sent to his mobile phone.
Should the allegations be true, Jibrin would have contravened provisions of Paragraph 3, Part one of the Fifth Schedule to the Constitution of Nigeria 1999, which provides that: "The President, Vice President, Members of the National Assembly and Houses of Assembly of States and such other public officers or persons as the National Assembly may by law prescribe, Shall not maintain or operate a bank account in any country outside Nigeria." (LEADERSHIP)
•Photo shows Hon. Abdulmumin Jibrin.