Talba Bags Another Appointment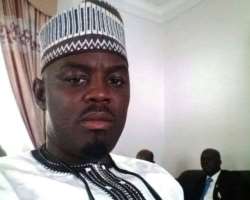 The initiator and coordinator of ABU-LOLO Youth Transformationand Empowerment Scheme, UMAR MUHAMMAD LAPAI ALIAS TALBAN SAMARI with the philosophy that "a Youth is 3 times productive, creative, effective and efficient than a person above the age range of a Youth" has once again proven his worth for the cause of championing the emancipation and empowerment of the Youth by bagging a temporal appointment as the Niger State coordinator of YOUTH ADVOCACY NIGERIA.
The organization with a MOTTO : OUR RESOURCES OUR OPPURTUNITY"reads it MISSION STATEMENT "to introduce and stabilized the culture and practices of solution advocacy across the zones of our country" has it VISION STATEMENT that reads "re-directing arms and ammunition advocacy mentality among the young and the old in the society, irrespective of background, to a solution advocacy, through the advocacy and dialogue centre initiative".
In a congratulatory letter signed by the national secretary of the organization, Adamu Sule on 5th September, 2016. The letter reads "Dear Umar MuhammedLapai, this is to inform you that you have been offered a temporal appointment, as coordinator of Youth Nigeria in Niger State adding that the temporal appointment is subject to review and shall commence from the date of issuance".
Youth Advocacy Nigeria comprises of skilful young persons who over the years have decided to come together as a single voice to sensitize and inform Nigerians, the Youth especially, that there is a better and more proper way to resolve our diverse religious, ethnic and political differences than violence and that way is through DIALOGUE.
UMAR MUHAMMAD LAPAI ALIAS TALBAN SAMARI can be better described as the multi-tasking young patriot considering his much participation in various Youth activities. Recall he was appointed the North Central Zonal Coordinator of AREWA YOUNG LEADERS INITIATIVE on 11th April, 2016 for a period of 3years.
The appointment FODIO gathered was based on Talban Samari's wealth of experience, doggedness, passion and keen interest towards YOUTH DEVELOPMENT and his steadfastness and commitment towards the fight against YOUTH RESTIVENESS.
In the words of Georg Wilhelm Friedrich Hegel "Nothing great in the world has ever been accomplished without passion". The truism of the wise saying can be seen in Talban Samari's undisputed passion for the YOUTH, which saw him also appointed as the Chairman of MAHMUD DERE FOUNDATION (MADEF) with the MOTTO : BRINGING OUT THE PERSON IN YOU.
And to cap it all, Ralph Lauren once said "A Leader has the vision and conviction that a dream can be achieved. He inspires the power and energy to get it done". Indeed, it is so, considering the leadership astuteness of Niger's inspiring and progressive leader, Mr. Governor, Alhaji Abubakar Sani Bello, when he appointed TALBAN SAMARI Senior Special Assistant on Youth Mobilization and Engagements.