2011: EX-MILITANT FLAYS ATIKU'S COMMENTS ON JONATHAN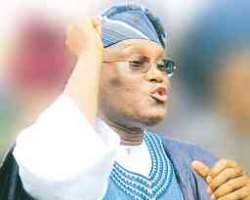 Alhaji Atiku Abubakar
A former ex-militant leader in the Niger Delta region, Mr. Nico Sintei, has condemned a former Vice President, Alhaji Atiku Abubakar, over his comments on President Goodluck Jonathan.
Atiku had asked Jonathan to shelve his ambition of ruling the country in 2011 in order not to destabilise the polity and zoning arrangement of the Peoples Democratic Party.
Sintei, who spoke with our correspondent on the phone on Sunday, said that over the years, the northerners had taken the Niger Deltans as slaves, noting that the president was free to aspire to any position after the expiration of his tenure.
The ex-fighter argued that it was normal for a right thinking individual to norture such ambition, saying whether zoning or not, Jonathan was a Nigerian and he was free to seek re-election in 2011.
Sintei, who was the leader of a militant group known as Niger Delta Freedom Fighter, listed three areas of fight against corruption, power sector and electoral reforms that needed urgent attention of the president.
According to him, 'I am happy for Jonathan but he should not only concentrate on the Niger Delta alone but follow the foot steps of his predecessor by ensuring a credible poll in 2011.
'Though, Jonathan is an honest and intelligent man. He should not allow the leadership of the PDP to order him around.
'He should seek a holistic approach to solving the nation's mounting problems and consolidate more on the amnesty programme as initiated by his predecessor.'
Also, the National Vice Chairman, PDP, South-South, Chief Edet Mkpubre, agreed with the views of the ex-militant leader but advised Jonathan to focus on those things that could add to the lives of Nigerians within the short tenure of his administration.
Mkpubre listed electoral reform, Power sector and Niger Delta crisis as the three key areas that needed urgent attention of the president.
On whether or not Jonathan should vie for the 2011 election, the vice chairman said that the president had promised the country that he would want to leave a legacy behind as someone that would conduct a free and fair election.
Mkpubre said, 'Jonathan is the sitting president today and I cannot tell him to forget his ambition of ruling the country in 2011. I believe the president will take everything into consideration before he makes his intention known.
'He is an intelligent man and if after making wide consultations, it is possible for him to contest, he will do so or forget about it.' Mkpubre noted