THEY CUT MY WIFE INTO PIECES AND SET HER ON FIRE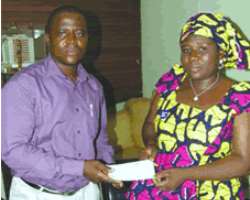 Michael receiving cash gift
The husband of a school teacher, whose wife was allegedly murdered by her students in Gombe, the Gombe State capital three years ago, is now being reportedly threatened with death by anonymous callers.
The man, Michael Olufemi Oluwasesin, whose wife, Mrs Christiana Oluwatoyin Oluwasesin, was murdered at Government Day Secondary School, Gandu, Gombe State, said anonymous callers harass him daily, ordering him to withdraw the case he instituted against the state government.
'I don't know who they are. They call me all the time and tell me to choose between life or death and drop the case,' he said.
Wicked threat
Speaking to Sunday Sun in Lagos, the visibly rattled man said the callers reach him late at night and early in the morning. According to him, they tell him they know who he is and where he is. 'The cold, wicked voices call and tell me: this is an order and warning, forget that case or we will kill you like your wife. Don't try to be a hero. You have two little children. We want you to be alive and take care of them. But if you prove stubborn, we will finish you,' Mr Oluwasesin said.
He had at different times tried to ask for the identity of the anonymous callers and got a deafening silence. Not taking the matter lightly, Oluwasesin said he reported the matter to the State Security Service (SSS) last year at Abeokuta where he lives and was told by the security operatives to remain calm.
'I have been calm since but the calls keep coming. I don't want to remain calm anymore. That is why I'm talking to you. As for death, I'm not afraid. They killed my wife, now they are after me,' he said.
Unbowed
Though rocked by the death of his wife and being saddled with single parenthood, he remains in high spirits. 'I'm a Christian and my faith in God is unshakeable. Those who killed my dear wife, Christiana; those who want to kill me must not forget that God will judge them. I'm not scared of death or any thing,' he said lashing back at his anonymous assailants.
Gory details
Oluwasesin's wife was allegedly killed by her students on March 21, 2007. Narrating how the ugly incident happened, the 40-year-old Bio-Medical Scientist told Sunday Sun his wife also doubled as Discipline Mistress of the school.
'That day, Wednesday, she was invigilating Senior Secondary students sitting for Islamic Religious Studies examination. One of the students (name withheld) said she had a copy of the Qur'an in her school bag, which my wife took away before the exams started. The girl began crying that the Qur'an had been desecrated. Her bag wasn't the only one collected and kept in front of the class by my wife. With this, other students started shouting Allahu Akbar (God is great)! When the uproar continued, the school Principal, the head boy and other teachers escorted my wife to the Principal's office.
From there, hell broke loose. The students and outsiders, who joined, tied her up, beat and tortured her. One of the students later took a knife and slit her throat. They cut her into pieces and set what was left on fire. They burnt her car also and almost killed my son, Emmanuel. He was only 10-months old then. A nice woman hid him in her long gown and saved his life,' he recounted as tears streamed down his face.
Curious irony
After graduating from school of Medical Laboratory Sciences, Lagos University Teaching Hospital, Oluwasesin was posted to Gombe State for his National Youth Service in 2002. He distinguished himself by winning the state's NYSC Honours Award and the state's nominee for the NYSC National Honours Award. He was employed by the state as a medical laboratory scientist at Gombe State Specialist Hospital. He worked there until March 2007 when he disengaged and took another appointment at the Federal Medical Centre, Abeokuta, Ogun State as a Bio-medical scientist.
He and his wife, Christiana, met and got married on August 28, 2003 at Gombe. She was also employed by the state after her NYSC.
But the day she was killed was to be her last day in the school. She had served the state Teaching Service Commission notice of her resignation. Her intention, Sunday Sun learnt, was to join her husband at Abeokuta. But this wasn't to be as her husband later came to collect her badly burnt remains and two hapless kids, Victoria, 7, and Emmanuel, 4.
Legal logjam
Following the death of his wife, he and his children headed to the court. They want the state government to accept liability and compensate the family for her death.
But he told Sunday Sun that the Federal High Court, Gombe, refused to handle the case, saying the state does not have enough security to maintain law and order during the trial.
Assisted by a non-governmental organisation and human rights campaigner, Macedonian Initiative, Oluwasesin and his children dragged the state government to the Federal High Court, Yola, in neighbouring Adamawa State. The suit is still pending in the court.
Cap-in-hand
The man has of late been weighed down with raising his two children alone. Hearing that his house rent was due, a widow, Mrs Veronica George Orjih, who few weeks back relocated to Lagos with her children reached out to him. Now the president of a new NGO, Voice of Widows, Mrs Orjih went cap-in-hand last Sunday and raised N140,000 at the City of David Parish of the Redeemed Christian Church of God, Lekki, Lagos for Oluwasesin's family.
While handing over the money to Oluwasesin, Mrs Orjih, whose husband, a pastor, was beheaded by the Boko Haram sect in Borno State, said: 'I have been there; I know the pain. For widows and widowers, the pain is the same. I know how it feels. That is why we are helping him to pay his house rent and take care of his two little children.'
Worried by the seeming uncaring posture of the Christian Association of Nigeria (CAN) to the plight of religious crises victims like Oluwasesin and herself, she said: 'CAN as the umbrella body of Christians in the country has failed. The father-in-law of the leader of the Boko Haram has been awarded N10million compensation while those he killed are forgotten and left to suffer forever. CAN has failed us,' she lamented.