Joe Hart's farewell letter will make you cry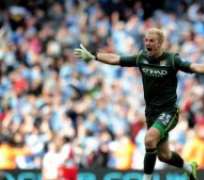 If the arrival of Pep Guardiola brought a lot of excitement to Manchester City fans, it also caused a very sad moment when we learned that Joe Hart was not a part of the Catalan coach's plans, and the goalkeeper was going to move away from the club after a decade of services.
On Wednesday we learned that Hart joined Serie A side Torino on loan, an interesting move that will certainly keep Joe active as he hopes to remain in the England squad now that Sam Allardyce has taken over. Hart is certainly very excited about the new chapter in his career, but he did take a moment to thank the club he has been playing at for the last ten years.
Joe Hart wrote a farewell letter on his Facebook page, and it is simply spectacular. If this doesn't make you emotional, then you're either not a City fan or a human being. I'm sorry.
Good evening.
I just wanted to take this opportunity to address all the amazing Manchester City fans who have been so good to me. It's been a difficult few weeks but that will never cloud the amazing journey and experience your great club has given to me. From the moment I signed in 2006, the club and its fans have given me football and life experiences I could never have imagined and I am so thankful for that. Football is a crazy game and, due to circumstances, I am now movi ng on to another chapter of my career and I am very grateful that Torino has given me this opportunity to play for their great club .
But the feelings I felt during the recent Steaua Bucharest game will live with me forever. You can't buy that and I will struggle to replicate them. So thank you for that and all the amazing memories.
There are many great people at the club behind the scenes and the club is moving in the right direction, so I would like to wish Manchester City football club,all its staff and players and of course the fans, all the best for the coming season and beyond.
Thanks again
Joe Hart
Thank you so much for all you've done, Joe. You've made history for us and we'll never forget you. Ever.