We did not call Nigerian lawyers, judges vultures: EFCC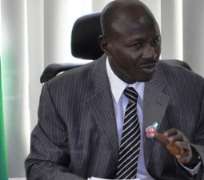 Nigerian lawyers and judges "are peopled by very many seasoned, upright members, who have made and are still making invaluable contributions to the fight against corruption., '' the Economic and Financial Crimes Commission has said
In a statement  by the commission's spokesman, Mr Wilson Uwujaren, in Abuja on Monday, the anti-corruption agency denied impugning the integrity of members of the respected legal profession.
The commission had in earlier response to the statement made by th  new NBA President, Abubakar Mahmoud calling for the stripping of EFCC of prosecutorial powers made remarks which appeared pejorative on members of the NBA .
The EFCC had described the call as "self-serving" and intended at creating "a cabal of untouchables," citing its trial of corrupt lawyers and the record of the new NBA president in defending corrupt public officials.
"A Bar populated or directed by people perceived to be rogues and vultures cannot play the role of priests in the temple of justice", the EFCC had written opening itself to several interpretations.
In a clarification today, Uwujaren said that the EFCC has no intention of impugning on the integrity of upright and honourable members of the NBA as was being alleged in a section of the media.
He also said that whilst the reactions had been overwhelmingly positive, a few people seem to have read only the headlines of newspapers and online platforms that reported the statement.
"For the avoidance of doubt, the commission did not say the whole of the NBA is populated by rogues and vultures.
"The Nigerian Bar and Bench are peopled by very many seasoned, upright members, who have made and are still making invaluable contributions to the fight against corruption,'' Uwujaren said.