Ondo 2016: Adeyeye Endorses Senator Borofice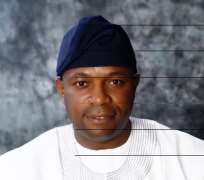 A Governorship Aspirant on the platform of the All Progressives Congress (APC) in Ondo State, Mr. Olaoluwa Michael Adeyeye has dropped his ambition to support the Gubernatorial aspiration of the current Senator representing Ondo North Senatorial District in National Assembly, Professor Ajayi Borofice.
In a statement personally signed by him and made available to newsmen on Saturday in Lagos, Adeyeye, a Lawyer by profession said Prof. Borofice possesses the leadership stature, charisma and widespread popularity required to win the general election for APC in Ondo State.
Adeyeye, a native of Akure, the state capital also said that only Senator Borofice has the intellectual acumen and the exposure that can spare-head governance that will outshine the achievements of the outgoing PDP government of Dr. Olusegun Mimiko.
"Having consulted widely with my political associates, friends, relations, professional colleagues, traditional rulers and other important men and women of God of valor and substance, I have reached a conclusion that the best decision for now is to collapse our campaign network and structure into that of Professor AjayiBorofice to ensure victory for our party at the polls and ultimately a deliverance from penury and bondage for the people of Ondo State.
"I have painstakingly considered the credentials of my fellow aspirants and I want to declare expressly that most us have what it takes to lead our state to Canaan. However, I must say that among all of us in APC, one person stands out and the person is Senator Ajayi Borofice.
"I traced Borofice to Lagos State University where he became a Professor to the National Agency for Science and Engineering Infrastructure (NASENI) where he served as Coordinating Director for Science.
"I equally investigated his reign at the National Biotechnology Development Agency (NABDA), National Information Technology Development Agency (NITDA) and the National Space Research and Development Agency ( NASRDA ); what I found out about Borofice was inspiring.
"In 1999, Borofice became the founding Director General of NASRDA , a post he held for 10 years. Under his leadership, NASRDA launched 2 satellites; a low orbit earth observations micro-satellite (NigeriaSat-1) in 2003 and a communication satellite (NigcomSat-1) in 2007.
"Senator Borofice, the Asiwaju of Akoko land also laid the groundwork for the building of NigeriaSat-2 and NigeriaSat-X, which were launched in August 2011, from Russia.
"In 2004, for his outstanding service to the Nigerian people, Robert Boroffice was conferred the title of Officer of the Order of the Niger (OON) by President Olusegun Obasanjo .
"In March 2011, Boroffice was given the 2011 Golden Merit Award in Space Science by the World Federation of Science Journalists.
"Borofice was the only first term senator in 2011 that was made chairman of a senate committee. A community leader per excellence. A bridge builder. A silent revolutionist. In Borofice, I found a leader who never takes NO for an answer." Adeyeye declared.
He appealed to APC delegates to vote wisely at the primaries and to shun money politics, stressing that indulging in such will be counter-productive for the APC and the good people of Ondo State in general.