IBB: ARCHBISHOP CAUTIONS CLERIC ON BAD COMMENTS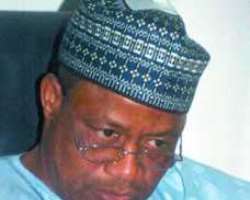 IBB
As controversy rages over the acceptability of former Military President, General Ibrahim Babangida in the 2011 presidential race, clerics have been urged to avoid inflammatory statements. Speaking in Lagos yesterday, President of the Charismatic Bishops Associations of Nigeria Archbishop (Prof) John Obiokeke, condemned comments attributed to the General Overseer of the Living Faith Church (aka Winners Chapel), Bishop David Oyedepo, where he advised Nigerians to avoid Babangida, as the ghost of the annulled June 12, 1993 presidential election will continue to hunt the former Army General.
Obiokeke noted that there is nothing like the ghost of June 12, except in the minds of people like Oyedepo, adding that before the annulment of the election, God had already annulled it.
He said that prior to the election, he had told Nigerians, in prophecy of that year as well the wife of Abiola's running mate, Babangida Kingibe, that something would happen to the poll.
He said: 'Let me tell you one thing, June 12 was not annulled by President Ibrahim Babangida. It was annulled by God. God annulled June 12 before the election was held, because in December 1992, God revealed to me that it will look as if Abiola would win the election but that Abiola will never emerge as the president.'
The Archbishop advised Nigerians to allow the issue of June 12 to die a natural death, so that Nigeria can move forward. He regretted the number of people who lost their lives during the quagmire that heralded the annulment and urged clerics to continue to teach their congregation about the gains of forgiveness, as enshrined in the Bible.
Obiokeke said that God had chosen Babangida as Nigeria's president in 2011 and that God cannot be questioned.
Insisting that men of God should try as much as possible to remain apolitical and father to all, since God has anointed them to shepherd His flocks, the Archbishop added that he respects Bishop Oyedepo but that his recent outbursts were contrary to his current posturing.
He said: 'It is outrageous for Oyedepo to say that IBB should be avoided when about two weeks ago, at a book launch on the retired Supreme Court justice, Justice Oguntade, held at the City Hall, Lagos, Oyedepo was with Babangida on the stand and after a heart-to-heart discussion, both of them walked out to take photographs.
'Clerics must learn to teach what they practice; it is not proper for the revered Bishop to ask people to avoid Babangida while he is courting the former president's friendship.'
He said that the annulment of the June 12 election was a joint decision by the military, adding: 'Babangida is a democrat. He organised the freest and fairest election in Nigeria and as an attestation to his large heartedness, his house in Minna is a Mecca of sort for many politicians. At a time like this in Babangida's life, I think he is more determined to deliver to Nigerians the gains of democracy, because he is quite at home with the various ethnic nationalities and his goodwill endears him to the heart of most well meaning Nigerians.'
Obiokeke also said that Oyedepo's call for deliverance for Babangida's associates was deceitful because he should be the first to seek deliverance after taking pictures in public with Babangida.