Is A Woman Fit For The Post Of UNSecretary-General?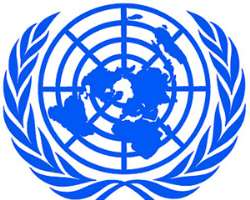 As the contention over who becomes the next United Nations Secretary-General hits up as the current occupant, Mr. Ban Ki-moon bow's out in December this year, several interests have been pushing for their preferred candidates to succeed the South Korean-born diplomat-in-chief.
Of particular note is the activity of the Campaign to Elect a Woman UN Secretary-General led by some group of international women among who are Ms. Shazia Rafi, former Secretary General of Parliamentarians for Global Action and Ms. Charlotte Bunch, founding Director and Senior Scholar at the Center for Women's Global Leadership at Rutgers University.
The action of these women is however propelled by the commitment of Ms. Samantha Power, United States Ambassador to the United Nations and Mr. Mogens Lykketoft, President of the United Nations General Assembly to increase transparency in the process of selecting and appointing a female UN scribe.
Between December 30th, 2015 and July 7th this year, a total of 12 candidates were nominated out of which two nominations have been withdrawn. They are; Dr. Srgjan Kerim from Macedonia and Professor Ms. Vesna Pusic from Croatia. The contending candidates are now 10; five male and five female.
The male candidates are; Mr. Antonio Guterres from Portugal, Mr. Miroslav Lajcak from Slovak Republic, Mr. Vuk Jeremic from Serbia, Dr. Igor Luksic from Montenegro and Dr. Danilo Turk from Slovenia.
The female candidates are; Ms. Helen Clark from New Zealand, Ms. Irina Bokova from Bulgaria, Ms. Susana Malcorra from Argentina, Ms. Natalia Gherman from Moldova and Ms. Christiana Fiqueres from Costa Rica.
In a straw poll recently conducted for candidates for the first time, Mr. Antonio Guterres, former Prime Minister of Portugal and immediate past United Nations High Commissioner for Refugees was leading with 11 Members of the Security Council encouraging him to continue with his campaigns.
However, Russia, one of the veto-wielding members of the Council is insisting that the next UN boss must come from Eastern Europe while America, Britain and the outgoing UN Scribe, Mr. Ban have agreed in principle that a woman should be the next UN boss.
Apart from the campaign mounted within the UN system by the American Ambassador to UN, Ms. Samantha Power, in an OPED written in the Washington Post last year, former Governor of the US State of New Mexico and Ambassador to the United Nations, Mr. Bill Richardson said: ''Everybody in politics talks about women empowerment, but it is now time to act and name a woman to one of the world's top jobs... It will be a true mark of progress if 2016 saw the appointment of both the first female UN Secretary-General and the first female President of the United States.''
Since its establishment about 70 years ago, of the eight top diplomats that have occupied the office of the UN Secretary-General, none was female! And that is why unprecedented measures aimed at increasing transparency in the activities of the 193 Member states of the UN are taken seriously. For Example, apart from allowing members of the Civil Society to put questions across to candidates, contenders were made to answer them during UN General Assembly Dialogue hosted by Mr. Mogens Lykketoft, President of the General Assembly.
Of all the questions and answers, the one that caught my attention came from a colleague from Burkina Faso, Mr. Malick Lingani. He asked: ''How will you ensure that youths are in the core of combating hate speech and youth radicalization?''
Ms. Helen Clark who is my most preferred candidate responded: ''In my vision statement, I put special emphasis on youths and the need to pivot the UN toward the largest generation of young people the world has ever known. Young people need positive opportunities if they are to be resistant to the lure of hate speech and extremist ideologies. They need a way to connect with each other and hope for the future. The UN can help in some countries through its focus on development and poverty eradication. In others, it can help by encouraging young people to understand each other's culture and religion; to develop tolerance and acceptance of diversity.''
Another colleague of mine, Mr. Rahul Kumar from India asked: ''How would you anticipate and what measure would you take to maintain international peace by solving internal conflicts even before there starts and become a crisis? Next UN Secretary-Secretary must anticipate and analyze problems before it turns in to a crisis like in Syria, Yemen and elsewhere?''
Ms. Clark answered: ''As Secretary-General, I would make it a priority to strengthen the UN's mediation and conflict prevention capacity. I would work closely with regional organizations who are often the first to pick up signs of future instability. I would also use proactively the ''good office'' role of the Secretary-General to bring people together and to promote dialogue and where possible to avoid conflict.''
On the interpersonal level, last year, I asked Helen Clark who is also the Administrator of the United Nations Development Programme UNDP if the much attention given to Syria by UNDP was not affecting development in other regions? She replied: ''UNDP will do as much as it is funded to do. Much more could be done.''
However, as the post of the UN Secretary-General becomes vacant in December and requires the services of somebody with proven leadership and managerial abilities as well as extensive experience in international relations, strong diplomatic acumen, communication and multilingual skills, I have no doubt that Right Honorable Helen Clark is fit for the UN top job.
Before her appointment as the first female to lead the UNDP and Chairperson of the United Nations Development Group in 2009, Ms. Clark served for 9 years as Prime Minister of New Zealand from 1999-2008.
As Prime Minister, she vigorously engaged in policy developments and advocacy across the international spectrums, pursued economic, cultural and socio-political goals for the citizenry. Her pursuits resulted in significant economic growth, low levels of unemployment, high level of investment in education, health and the general wellbeing of New Zealanders.
As member of the Council of Women World Leaders, an international network of current and former Presidents and Prime Ministers, Ms. Clark mobilized women at the highest level of governance to confront issues of critical importance to women and equitable development.
With the rich experiences of Ms. Helen Clark, I have no doubt whatsoever that the world would be safer if she is selected and appointed to lead the UN as its first female Secretary-General at this defining moment.
Edwin Ekene Uhara is a United Nations-trained Multilateral Trade Negotiator and writes from Abuja, Nigeria.
He can be reached via [email protected]
Disclaimer:

"The views expressed on this site are those of the contributors or columnists, and do not necessarily reflect TheNigerianVoice's position. TheNigerianVoice will not be responsible or liable for any inaccurate or incorrect statements in the contributions or columns here."
Articles by Edwin Uhara