Why Nigeria should pull out of OPEC – NPA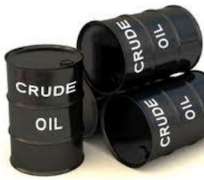 The General Manager, Western Ports, Nigeria Ports Authority, Chief Michael Ajayi, has said that continued naira devaluation is a key factor that would ensure Nigeria's exit from Organisation of Oil Producing Countries (OPEC).
Ajayi stated this in a paper titled: 'Nigeria's Economy and Way Forward' during the Induction of new members of the Institute of Credit Administration (ICA) in Lagos. He said 'As a way forward, if we must continue to devalue the naira, then we must pull out of OPEC to enable us enjoy the fruits of devaluation.'
He also hinted that the current devaluation of the currency under a floating exchange regime designed to attract more foreign exchange into the economy has achieved nothing but has rather brought misery, double digit inflation (16.5 percent), high interest rates and closure of factories.
He said that the constant devaluation of the naira since 1985 to date has been unhelpful in redressing the distortions in Nigeria's economy, adding that Nigeria has vacillated from Second Tier Foreign Exchange Market (SFEM) in 1985 to Foreign Exchange Market (FEM) and now a floating currency exchange system. 'The present structure of Nigeria economy does not support devaluation by any stretch of intellectual imagination and thinking.'
The NPA official said there seems not to be any gain derived from successive devaluation of the naira because the nation's export base in both agriculture and manufacturing is weak and cannot generate the needed forex on the short run, saying that the only item that has expansive export base capable of generating huge forex for Nigeria is crude oil.
'The devaluation of a currency is primarily adopted to reduce the price of a country's export while increasing the price of its imports. If this is an acceptable underlying principle of devaluation, it is assumed that a country desirous of devaluing its currency must have an expansive export base of either manufactured goods or agricultural cash crops or both capable of being sold on a massive scale to generate the much needed forex.
At the same time the high price of its imports is expected to discourage huge imports. A low import tends to reduce pressure on forex thereby conserving a nation's foreign currency earned.
'Unfortunately, Nigeria is a member of OPEC, which limits every member country to a restricted quota that cannot be expanded to enable Nigeria enjoy the dividends of devaluation. Under OPEC, no nation can reduce or increase the prices of its crude oil far above the OPEC dictated range. We are compelled to ask the voodoo economists how Nigeria can gain on the short run from the devaluation policy of government. Nigeria can neither expand production, reduce nor increase the prices of its crude oil which constitutes 95 percent of its gross earnings,' he said.
Highlighting other ways to move the economy forward, Ajayi said the country must immediately begin to diversify its economy by embarking on massive agricultural programmes capable of reigniting the production of cash crops; government must come up with a concise strategy for the exploration and exportation of solid minerals; strengthen anti-corruption agencies such as EFCC and ICPC, among others with improved logistics and requisite funds to enable these agencies stem the tide of corruption in the country.
He added that a new approach and a new thinking must be brought to bear in the energy sector while a new and alternative sources of energy such as wind and solar must be examined.
He also suggested that the government should consider the re-denomination of the naira and at the same time come up with a new currency to replace the current one. 'This was done in Turkey and Romania in 2005, Argentina in 1992, Russia in 1998, Germany in 1923, Bizone/Trisone in 1948 and Ghana in the nineties.
This approach will enable the Central Bank of Nigeria (CBN) to suck in the naira that has been hidden in farms and septic tanks into the banking system hence enabling the CBN to systematically inject the required quantity of money into circulation and perform its regulatory function effectively and efficiently,' he stated.
Also speaking, Registrar/CEO, ICA, Prof. Chris Onalo, stated: 'When you are turning an economy that has been in comatose around , there is no way people will not express disgust, people naturally resist change, change comes with pain but the manager must recognise how to mange the pains. There is no way we can achieve a better Nigeria without people having to suffer.
There must be light at the end of the tunnel which everybody must see at the end of the change agenda. This government needs to come up with a programme that would work in pari-pasu with the good intention of the government. There is need to reconstruct this country and we need only serious minded people to reconstruct Nigeria. - Vanguard.