Buhari Isn't Implementing UNEP Report Adopting Jonathan's HYPREP AndAccepting $hell, NNPC As Part of Management Team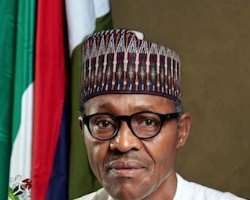 Insofar as Ogoni cleanup and restoration is concern, President Muhammadu Buhari could be seen by many who believe in God or Allah, as a God's or Allah's sent. Although he deserves commendation for the steps he's taken compared to the zero action of Mr. Goodluck Jonathan, his predecessor who is Ijaw and Niger deltan that should know better. Mr. Buhari has, however, taken these steps on wrong foundation, hence far from being a God's or Allah's sent. Like Jonathan, he ignored the core recommendations of the United Nations Environmental Program's (UNEP) report to adopt Mr. Jonathan's unwarranted Hydrocarbon Pollution Restoration Project (HYPREP).
UNEP report on Ogoni recommends thus: "The government should establish an Ogoni Environmental Restoration Authority, to oversee implementation of this study's recommendations. With a fixed initial lifespan of 10 years, the Authority will have a separate budget which will accrue from an Ogoniland Environmental Restoration Fund and its staff will largely be seconded from relevant national and state institutions," (UNEP report, 2011, page 15).
"The overall cost of the clean-up should not be an obstacle to its implementation. Therefore, an Environmental Restoration Fund for Ogoniland should be set up with an initial capital injection of USD 1 billion contributed by the oil industry and the Government, to be managed by the Authority, the Fund should be used only for activities concerning the environmental restoration of Ogoniland, including capacity building, skills transfer and conflict resolution, " (UNEP report, 2011, Page 15-16).
Details of recommendations can be found on page 12 to 17-Summary Recommendations, and page 204 to 221- full recommendations. Also see Ogoniland's Path to Sustainable Development, page 224 to 231. It's obvious the Nigerian government under Jonathan created HYPREP as a national oil spills and pollution intervention agency that unlawfully expand the scope of the Ogoni environmental assessment to other polluted areas of the country including Jonathan's. Whereas the report and recommendations unequivocally targets Ogoni. Unfortunately, assuming they've seen and read the report neither Jonathan nor Buhari gave any rationale or explanation to Ogoni and the public for relegating some core provisions of the report that aims to localize the project for better management, efficiency and effective intervention.
Pres. Buhari's action, like Jonathan's is a negation, gross rejection and abuse of due process. When the due process is ignored for a wrong foundation that causes wrong starts as record shows with HYPREP, the tendency exist that the end-result would be wrong and detrimental to Ogonis and their environment. It's clear the report didn't in any form or shape suggest the expansion of work scope of the Ogoni Environmental Restoration Authority (OERA) nor did it suggest funds raised into the Ogoni Environmental Restoration Fund (OERF) can or should be used for work in other polluted areas of the country. As incontrovertible as the UNEP recommendations, ignoring these recommendations to create HYPREP points to the direction of insincerity and lack of commitment on the part of the government, especially Buhari. It also suffices the lack of commitment of $hell, National National Petroleum Corporation (NNPC) and other oil companies which happens to be Co-polluters, and collaborated with Jonathan to create HYPREP using the former Petroleum Minister and former $hell's management staff, Mrs. Diezani Allison-Madueke. The government may also have plans to use the name of Ogoni cleanup to raise funds for non-Ogoni projects that may create room for corruption including embezzlement which are Nigeria's trademark.
Considering that Nigeria hasn't done such project before and pollution in Ogoni, other places have been there for decades, it lacks the capacity to start and conclude Ogoni cleanup and restoration. HYPREP will be confusing with too many communities and interest groups including the oil companies. These companies caused the pollution and degradation. They covered things up for more than 40 years and sometimes bribed officials of the Nigerian Petroleum Ministry to jettison rules and regulations. HYPREP as intended will delay Ogoni project if it starts at all. Of course the report is entering its 6th year since released on August 4, 2011. No work relating to actual cleanup nor establishment of recommended authority and fund has started, but the creation of HYPREP and it Governing Council and Board of Trustees against the provisions of the report's recommendations.
The so-called reformed HYPREP's gazette hasn't been made public even though some Ogonis who were part of negotiations and alleged reform may have seen the original. This gazette was also said to have been altered as common with most things handled by the Nigerian government, $hell and NNPC. Meanwhile, the rules of honesty, transparency and accountability demands that governments and their agencies, all public office holders including Buhari disclose information regarding public interest projects or activities in an honest, accurate and timely manner. Buhari and his team haven't met this honesty and transparency test, yet they claim commitment to implementing the UNEP recommendations while relegating some of the core elements. The president also allow $hell, NNPC and others to be judges in their own criminal case. This is unprecedented, and negatively so when considering conflict of interest. The aims and objectives of these companies to save cost and deliver poor services if work start at all, or cause confusion, delay project until a president like Jonathan come on board after Buhari or not start at all . Their action indicates they aren't willing to accept full responsibility for Ogoni pollution and those of other communities in the country.
Although the Center for Excellence and Soil testing plant recommended to be built in Ogoni as cleanup related tools that will also cause employment, scholarly work and visit, tourism and more may still come under current HYPREP. Ignoring the Restoration Authority and Fund as recommended to aid unabated focus on Ogoni for best result, to create HYPREP in order to expanding and sharing Ogoni opportunity calls for concern and points to sinister motives not limited to deliberate uncanny bureaucracy that will lead to unnecessary delays and possible stalling of project at the rudimentary level.
Sadly, the Nigerian Media seems to have ignored the content of the report and recommendations as well, They've gone for the cheap talking points the government and $hell uses. In some cases, certain media outlets don't even get the facts of the report's recommendations right. Some have reported that the recommended $1 billion initial deposit for commencement is for the life of the project while others have said the money is actually to commence work but also for an expanded work from Ogoni to other polluted communities. Others merely report exactly what the government or president says without attempting to base their reporting on the facts or content of the report they reference. Some reporters have also claimed the formation of HYPREP, its Governing Council and Board of Trustees are based on the report's recommendations whereas such formation contravenes the provision and spirit of the report. It isn't too late for the media to act properly by focusing on these recommendations and holding government and companies accountable.
It's obvious the Nigerian government hasn't and can't hold these companies accountable due to their perceived and real importance-their influence. Instead these companies influence government policies, dictate actions and imposed themselves as with HYPREP and their inclusion. Therefore, giving the number of years Ogoni pollution has lasted, about 1970 to recent spills, the sensitive nature of the environment and history of the oil companies and Nigerian government. It's either Buhari or any other president after him will implement the full extent or content of UNEP report or not implement it at all.
Like the report, the polluter pays doctrine is clear about the role to pay for pollution caused by companies or groups. These companies must not be part of the management council and board when Ogoni Environmental Restoration Authority and Fund are established, to execute their financial responsibility with other tasks specified in the report's recommendations for the oil industry. HYPREP can be a national intervention agency which shall partner with Ogoni Environmental Restoration Authority, but not the sole front since its functions cover all the polluted communities against the provisions of the UNEP report.
The Joint Venture which include government and these companies can still make arrangements to pay for this project without being represented in the management team of the project to manipulate things in their favor. Of course, they'd have been prosecuted for the deliberate and reckless pollution and cover-up, in addition to paying for the project. They had 50 years to represent themselves with government officials to resolve the pollution, not cause it by adhering to rules and regulations or intervened properly. They took things for granted hence failed.
Lastly, the Ogoni cleanup and restoration will only succeed where the government respects the UNEP report and recommendations to apply them strictly and accordingly. It will work by making the Ogoni Environmental Restoration Authority and Fund independent without the oil companies. UNEP, other independent experts and few government representatives working with Ogonis for intended result are necessary for success.
UNEP report and recommendations or Ogoni cleanup project must be granted legal backing by lawmakers to earn its place in the annual budget. Clear and honest communication with timely and strategic delivery will add to respect for due and ethical process based on UNEP recommendation and independence of OERA and OERF to rock the best result anticipated.
The media role must be ethically executed…they must join Ogonis, civil society groups to hold government and oil companies accountable by presenting to them the full extent of UNEP recommendations and demand holistic implementation. HYPREP has failed as is and will stay a failure except disbanded, made to focus on work in other polluted areas or be converted to being the Ogoni Environmental Restoration Authority, and project localized as intended for effective management, efficient project execution, even after Buhari leaves office.
Disclaimer:

"The views/contents expressed in this article are the sole responsibility of the author(s) and do not necessarily reflect those of The Nigerian Voice. The Nigerian Voice will not be responsible or liable for any inaccurate or incorrect statements contained in this article."
Articles by Ben Ikari