Gov. Umahi suspends LG commissioner, disbands empowerment committee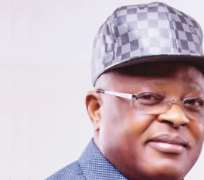 Governor of Ebonyi State, Engr. David  Umahi, on Friday suspended  the  Commissioner for Local Government and Chieftaincy  Matters/Rural Development, Barr. Samuel Okoronkwo.
Although Umahi did not clearly  state the reason for his action, it was learnt it had to do with the lopsided selection of youths in the state for the Industrial Training Fund programme.
It was also gathered that Umahi, who directed that the most senior officer in the ministry should take over from Okoronkwo later on Friday evening asked the Permanent Secretary,  Ministry of Finance, Dr. Ignatius Unah, to take charge. The most senior officer in the Local Government Ministry will consequently assist the permanent secretary.
The governor, who  announced the  suspension while declaring open  the ITF programme   in Abakaliki, also disbanded the state's Committee on Employment.
A statement by the Chief Press Secretary to the Governor, Emma Anya quoted Umahi as saying  'The  Commissioner for Local Government is hereby suspended from office effective from now. And the highest office , a civil servant, should take over and be attending Exco until further notice.
'This administration from day one has been built on the principle of justice, equity and fairness. In some of our programmes, we do equality of Local Governments. But in  this kind of empowerment, we do equality of wards, so what I expected to see here would have been for them to borrow a leaf from what we are doing to empower abou 3,000 of our women and youths.
'We are doing this and everybody is happy. We are called to build Ebonyi State where nobody will say I am from  North or South or Central. I think we are succeeding.Anybody that is going to take us back to the dark ages will be resisted.'
Umahi however stressed that his administration  was  poised to develop the capacity of the youth  to become self- reliant
He called on the youth of Ebonyi  who are jobless in other parts of the country     to return home and find something meaningful to do under his government's  youth-oriented programmes.
His words, "Every Ebonyi youth in other  parts of the country especially Lagos should please come back home; we are ready to create jobs for them.
"A day is coming when nobody will be willing to seek political office because of the current reality.  One day, there will be no kobo from the Federation Account so it high time we started thinking outside the box."
The governor said his administration would create over  100,000 jobs for the youth and women especially in the agriculture sector
He said the state now focused mainly on mechanised system of farming  because  "agriculture without technology is death."
Governor Umahi however promised the trainees of financial assistance to enable them set up their businesses after acquiring   necessary skills from the programme
Earlier, the ITF  Area Manager   (Enugu and Ebonyi states), Mrs Linda Egbonu, said the programme was organised to develop the mindset of the youth  in areas of entrepreneurship and skill acquisition