GOVERNOR UMAHI OF EBONYI STATE EMPOWERS AKAEZE COMMUNITY TO INVADE AMIYI-AMAOGUDU, OKPANKU IN ENUGU STATE .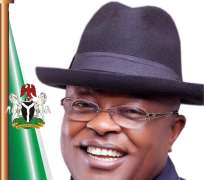 Amiyi-Amaogudu in Okpanku town, of Aninri LGA of Enugu State, is a border town with Akaeze in Ivo L G A of Ebonyi State and the two towns have been engaged in land dispute for over 8years now. This case have been reported to several authorities with claims and counter claims between both parties and a boundary committee was set up to look into the matter.
The committee advised both parties to stay clear of the affected area until their findings are concluded. But contrary to the agreement and understanding reached between the parties, Ebonyi State Governor, have ordered the Akaeze community to start selling the land.
It was reliably gathered that the Governor have appointed one Arochi, a well known transporter from Ogidi-Akaeze , to recruite ,train and head the attacking squad against the Amiyi-Amaogudus Community incase of any resistance. It was further gathered that the Governor suggested to Mr. Arochi during his visit to Government house Abakaliki, to recruit Youths from the middle belt area for a cover up to make it look like herdsmen's attack.
It would be re-called that some years ago, this same Akaeze community attacked the Isiagu community also in Ivo L G A of Ebonyi State, wipping out entire village and burnt down their houses and kidnapped their children till date. A detachment of mobile police force were stationed there as precautionary measures . They have also attacked some parts of Ohafia, in Abia state that share border with them. They did not spare Edda in Afikpo, L G A of Ebonyi state.
During the civil war, the Nigerian Army had their Headquaters at the Ogidi-Akaeze and at the end of the war, large cache of arms and ammunitions were left behind in that Community. It is believed they concealed the weapons and have been using these weaponry to attack their neigbours.
The Amiyi-Amaogudu, Okpanku are living in fear of being invaded by the war-thirst Akeze who have a notorious history of invading their neighbours and making away with whatever they have as spoils of war.
The Amiyi-Amaogudu community are already witnessing criminal intimidation from their neighbour as a prelude to the invasion. Women and young girls are regularly raped at their farms, bicycles and other rural dwellers belongings confiscated while at their farms.
I am calling on all peace loving Nigerians to prevail on Akaeze Community and their supporter to embrace peace and avert the impending bloodbath. Afterall, the Amiyi-Amaogudu is also made up of able bodied men who are capable of repelling any aggressors against the community; however we insist on seeking the way of peace.