Lagos shuts 12 houses as Police uncover illegal oil wells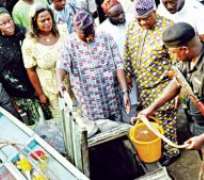 A huge discovery of illegal oil wells was made on Friday in Lagos leading the Lagos State Government to shut 12 houses on Abeokuta and Ibadan Streets in Ilasamaja area of the State. The perpetrators have used the shallow oil wells built by landlords to illegally scoop diesel from pipelines belonging to the Nigerian National Petroleum Corporation (NNPC).
The oil wells were said to have been built for the purpose of illegally scooping diesel and selling same to members of the public, while some of the affected landlords built pumping machines and boreholes to perpetrate the crime on a large scale.
Commissioner for Information and Strategy, Mr. Steve Ayorinde, who confirmed this while briefing newsmen at the Lagos House, Ikeja, said the step to shut the wells and cordon off the area was taken by government to forestall the loss of lives and property as a result of the looming danger.
Ayorinde, who addressed journalists alongside top government functionaries and the Lagos State Commissioner of Police, Mr. Fatai Owoseni, said a combined team from the police command, the Ministry of Environment, Lagos State Environmental Protection Agency, Lagos State Fire Service and Sole Administrator of Isolo Local Council Development Area carried out a thorough inspection of the entire area and discovered nothing less than 12 of the illegal oil wells.
He said that initial investigation revealed that a few of the landlords where the wells are located were taking advantage of the situation by commercializing the dangerous act.
He said that samples of the substance have been taken for immediate investigation in order to determine the true nature of the substance as well as the root cause of this unusual occurrence.
He said the State Government was working with the NNPC for further investigation.
Ayorinde said that for the safety of residents, especially on Abeokuta and Ibadan Streets, the affected wells have been sealed off, adding that the government would also work with those who are likely to be displaced as a result of the development.
"The Lagos State Government wishes to use this opportunity to remind Lagosians and the residents of these areas in particular, to assist the police with useful information and to urge them to always volunteer information before any potentially dangerous situation degenerates to public hazard," he said.
Also speaking the Commissioner of Police confirmed the arrest of three suspects in the operation, adding that a fire tanker has been stationed in the event of any fire incident.