Community Lambasts ADISEC For Cancellation Of Election In Michika Local Government Area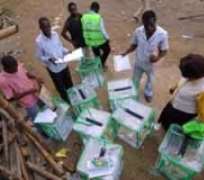 The Adamawa State Independent Electoral Commission ADSIEC has been challenged to show reasonable evidence why elections in Michika Local Government Area were cancelled twice.
The community while addressing the media on their plight over the unjustifiable cancellation of elections in the area said ADSIEC failure to prepare ahead of the elections led to the cancellations of elections on 30th July and 6th August 2016.
Speaking on behalf of the community Chief James T. Manager pointed out that ADSIEC failed to explain to the community why elections where halted twice and this is not the wishes of President Mohammadu Buhari who had ordered that elections should be held free fair and credible at all levels in the country.
He said Governor Mohammed Umaru Jibrilla, of Adamawa state while addressing the people pointed out the need for a credible council elections in Adamawa state but regretted that that commitment which was grossly abused by ADSIEC when they conducted a sham elections in twenty Local Government councils in Adamawa while cancelling that of Michika indefinitely.
The community said Michika Local Government was the most peaceful community despite the damaged done to the community by insurgents but the area remain largely peaceful and any election can be conducted free and fair without any security threat.
He said ADSIEC has no reasons why it cancelled elections twice in Michika Local Government Area other than attempts to deny the community their freedom to vote and be voted for in a democratic norm of voting the people of their choice.
The community pleaded for the intervention of the state Governor Mohammed Umaru Jibrila so that elections can be conducted in the area.
James T. Manager further described ADSIEC as a nefarious organization that has shaken hands with the previous Ebola that spent sixteen years of fraudulent rule in Nigeria as not even one Local Government conducted free, fair and credible polls.
He pointed out that, ''It is sad to note the anti-democratic machinery set up by ADSIEC in conducting elections has worsened democratic norms among the people of Adamawa state as only ADSIEC voted during the elections because the people were not considered while materials did not arrive in most areas.
Michika community will continue to press for a chance to elect people of their choice in a peaceful and orderly manner''
Some of the speakers included a member of the Michika Youth Renaissance, [ MYR ] Mr. Teri Bala who also aided his voice in pleading with the state Governor to call for elections in Michika Local Government Area as the people are law abiding and peaceful people who love democracy.