Governor Sani Bello's Health Reform Gets Boost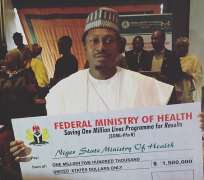 The ongoing efforts by Governor Abubakar Sani Bello to reposition the Niger State health system for efficient and people centred service delivery has once again received additional impetus. This is coming in the form of the official flag off of the Federal Government-led, result based partnership to improve maternal and child health, otherwise known as the SAVING ONE MILLION LIVES PROGRAM FOR RESULTS (SOML PforR).
The World Bank supported intervention seeks to catalyze rapid progress towards strengthening the Primary Health Care system as the mainstay of health care delivery in the country. Its goal is to build momentum towards improving health indices in six critical areas, namely skilled birth attendance, childhood immunization, malaria prevention, nutrition, prevention of mother-to-child transmission of HIV/AIDS and newborn care.
Mr. Governor's representative at the State Ministry of Health and Health Services, Dr. Mustapha Jibril stated this over the weekend while inaugurating the state SOML-PforR Implementation and Monitoring Committee in Minna, disclosed that the state has fulfilled all the conditions for the 1.5 million dollar initial investment grant which shall soon be disbursed the Federal Ministry of Health based on the approved work plan. He therefore urged members of the committee to put in their best in order to place Niger State on top of the performance table at the end of the initial one year of programme implementation.
The Commissioner commended Mr. Governor for giving the Ministry the all the needed support to apply the fund judiciously for the benefit of Nigerlites while tasking the project team to reciprocate this gesture through strict adherence to the highest standards of probity and accountability in the discharge of their duties.
In his remarks, the Permanent Secretary Health (PSH), Dr. Ibrahim U T Shugaba assured the Commissioner that, the fund will be administered efficiently in line with the rules and regulations governing public expenditure management in the state. This, according to the PSH, will enable the state to demonstrate tangible results that will qualify her for more grants in the next disbursement cycle. Dr. Tiffin expressed confidence that the Ministry has all that is required to achieve high flying results.
The SOML-PforR is designed to be implemented by State Ministries of Health based on an agreed plan of action with the Federal Ministry of Health. The four-year programme is funded from a 500 million dollars line of credit that has been negotiated by the Federal Government of Nigeria with the World Bank.
It is an attempt at restructuring the flow of resources within the health sector in such a way as to emphasize payment for measurable outcomes rather than simply paying for inputs and processes that are not necessarily tied to specific performance indicators. As a result, states will qualify for subsequent disbursements only when they demonstrate appreciable progress in any or all of the six performance indicators being tracked.