Chinor Emeka Features In August, 2016 Issue Of The Superwoman Agenda Initiative By Blogger Ebere Omeje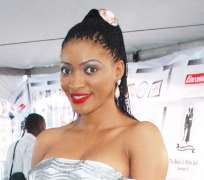 WOW! The superwoman agenda initiative published on a monthly basis in mamacruzz blog has picked another fabulous, great woman for the august 2016 issue. She is a household name in the events and entertainment industry, she is a woman every industrious woman should look up to.
She is Chinor Emeka, a cultural ambassador, an African woman to the core, the CEO of Caires grooming agency and the Director of Miss Heritage Nigeria Pageant and award...let's know more about her after this photo break...
Beautiful miss Chinor, first issue of Dr and lady Emeka Ukaegbu, was born and bred in Imo state of Nigeria. She is a graduate of Anatomy from the Madonna University. Though she was born with a silverspoon, having her parents support her financially, she was never carried away and never dependent, she nursed her own ambition and now she is making great waves, gathering awards and recognitions.
In the middle, dressed in Ankara, she radiates with award presented to her in honour of her youth empowerment initiative packaged in pageant form, where young Nigeria women are empowered to become independent and morals imbibed. She has also been honored with an award in the African Achievers Award in Kenya amongst others.
Once a contestant of the most beautiful girl in Nigeria, in 2009, now grooming models. The significance of this is that, not being able to win the MBGN contest never limited her but made her a better person today.
We cannot exhaustively talk about this hardworking, outstanding and amiable lady, who is out to take Nigeria to the next level in cultural values because that would be a hardwork on its own, she keeps unfolding...
We hope that the life of this beautiful but ambitious lady will inspire young Nigeria women to think great, work hard and of course excel.
In her words, she crosses boundaries to hold unto greatness. So get up now, work hard and right, cross boundaries of procrastination, financial excuses and inferiority complex. See you on top!!!