Fayose's camp reacts to Aisha Buhari's United States visit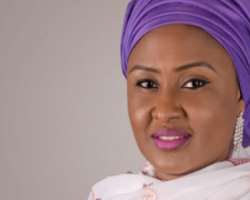 The aide of the Governor Ayodele Fayose of the Ekiti state, Lere Olayinka,  has said that despite the visit of visit of President Muhammadu Buhari's wife, Aisha to the United States, the onus still lied on the First Lady to prove that she is not the alleged person.
According to Olayika, the  president's wife should unravel the mystery, especially as the Aisha Buhari which the Presidency is alleging to be one mention had denied on tape that she is not the one.
The presidency had been insistent that  Mrs Buhari was not involved in the Halliburton scandal. On August  4, the president's wife shocked Nigerians and Fayose's aides as pictures of her visit emerged in the social media.
Premium Times has on August 5, today, asked Nigerians on Twitter to contribute to a poll if Fayose and his allies should Apologise or Keep Quiet to the allegation melted to Mrs. Buhari.
Lere Olayinka,  in a response to a Twitter poll by Premium Times on the subject matter, said, "If they are claiming that another Aisha Buhari was the one involved, shouldn't they just unravel this mysterious Aisha Buhari. "Their only defence is: it was another Aisha Buhari that was involved. But I have the Aisha Buhari on tape where she denied".
Governor Fayose had alleged several times that Mrs. Buhari would dare not visit the US because she was involved in the William J. Jefferson scandal, a bribery scandal that ended the political career of one of Louisiana's Democratic members of Congress. Former Congressman Jefferson is currently serving a 13-year sentence after he was convicted in US court for charges that included accepting bribes from Nigerian officials.
Without adducing any evidence, Mr. Fayose had publicly contended that Nigeria's First Lady was the woman who facilitated fraudulent and corrupt transactions in the United States with Mr. Jefferson. However, media investigations and reports by SaharaReporters and the New York Times provided photographic and other evidence that the woman involved in the Jefferson case was not the wife of Nigeria's president. The woman named in the Jefferson case is an entirely different Aisha Buhari who is still living in the United States.
An investigation by SaharaReporters revealed that Mr. Fayose once had his visa to the US revoked by the American Embassy in Abuja as a result of the governor's alleged involvement in corrupt practices and sponsorship of violence against his political opponents.
Mrs. Buhari has indicated that she plans to sue Mr. Fayose for defamation on account of his repeated statements.