Fiscal Sanity By Commitment And Patriotism In Buhari Administration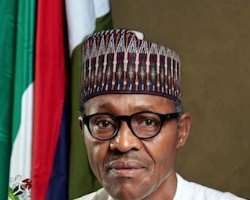 Something very significant happened few days ago but, somehow it passed almost unnoticed even in the ever busy cyber community. The almost graveyard silence about the unexpected increase in monthly revenue generation forced me to believe Nigerians are more keen on spreading stories of failure and always seem sceptical and reluctant to share stories of success.
Well, here's President Buhari's story. Due to aftershocks of the hard economic knocks Nigeria suffered in recent times caused by global recession, monthly revenue generation of the federation has been fluctuating between N200bn - N300bn hardly enough to allow most State's to shoulder basic responsibilities like paying workers salaries while capital projects were a thing of the past.
Out of the blues, the month of July witnessed an astronomical increase in the monthly revenue generation of the federation by more than N300bn up to N559.03bn from last month's N237.46bn, a whopping increase of N301.32bn; the highest in almost two years. Quite astonishing! That's not all the story. What made this performance a feat to celebrate is the fact that the improvement was mostly from non-oil revenue by FIRS.
The FIRS improved its performance between last month and this month by N165 billion and that accounted for the significant change in Nigeria's revenue profile. There was also an improvement of N12.6 billion by Nigeria Customs Service, as well as the exchange gain of N79.2 billion.
The fact that there was an outstanding increase in Companies Income Tax and Petroluem Profit Tax with complementary increases in import duty and royalties suggest seriousness of President Buhari and his team to block leakages in the revenue generation system for the benefit of Nigerians. Despite the fact that the high revenue performance was indicative that the reforms of the present administration were working and would return the nation to the path of growth sooner than expected.
Of course, it's difficult to accept one erred in judgement. Many WAILERS have the requisite capacity to read the situation and understand that something good was achieved and something better could be achieved. However, most of them are tied to primitive style of politicking which put Party above country hence, any achievement from the opposition should be suppressed.
Convincingly President Buhari and his team have proved themselves competent and set to carry Nigeria out of the woods without the usual noise of having Harvard trained economic experts who always seem capable of turning stone into diamonds but always ended up a disaster to Nigeria. I simply can't help but doff my hat for President Buhari not for this dizzying success but for achieving it without a "school certificate".
For how long you intend to remain a wailer without purpose is entirely your business. My business is to see success, appreciate and shout it loud enough for even the deaf, dumb and DUMB to hear. Congratulation Mr. President!
Usman Mohammed,
Lapai-Niger State.
07060815443
Disclaimer:

"The views/contents expressed in this article are the sole responsibility of the author(s) and do not necessarily reflect those of The Nigerian Voice. The Nigerian Voice will not be responsible or liable for any inaccurate or incorrect statements contained in this article."