Dagrin For Burial Today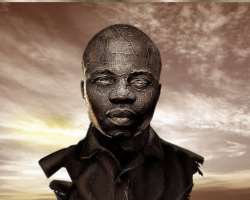 One week after his death in an auto-crash, Oladapo Olaitan Olanipekun, popularly known as Dagrin, will be buried today at Ebony Private Vault, Atan Cemetry, Yaba, Lagos.
According a burial arrangement signed by the late musician's family and friends, the interment will be followed by a short visitation with the family at their Meiran, Lagos home. The artiste was admitted into Intensive Care of the Lagos University Teaching Hospital (LUTH), Idi-Araba, Lagos after sustaining severe injuries from the auto accident.
The artiste was said to have rammed his car into a stationary truck opposite Alakara Police Station, Mushin leaving the rear side of the car in ruins. The unfortunate incident according to police sources, occurred in the early hours of Thursday, April 15 around 2.30am. Although the musician was said to be returning from a visit to a friend's house, another conflicting information from reliable sources revealed otherwise.
The controversy
Sources close to the musician, who would not want their names in print, revealed that the late musician was in fact, returning from a club. Unconfirmed reports by another source revealed that two bottles of Hennessy, an expensive spirit was found in the wreckage of the car. But the manager to the late artiste, Tunde, disclosed that the musician had merely visited friends and a few relations late into the night and suffered a "minor accident."
Both observers said the latter's views were aimed at down-playing the impact of the accident on the artiste. Others also said that the artiste should have been flown abroad for further treatment when his situation became critical. Dagrin was first rushed to T & S Hospital in Mushin from where he was transferred to LUTH.
Legacies
Although his first album entitled: Still on the Matter went unnoticed, he only started getting recognition on collaboration songs such as Efi Mile by YQ. This earned him an enviable place among Yoruba-speaking hip hop artistes such as Lord of Ajasa and 9ice. With the arrival of his second album entitled: C.E.O meaning Chief Executive Omoita which comprises hits such as Pon Pon Pon, it was clear to all that he had come to stay.
He has equally succeeded in removing the borders between English and Yoruba-speaking lyrists. A critic noted "his use of Yoruba to rap and sing Hip-hop is so alluring that those who don't speak the language are at least seduced by his flow and rhymes.