Gov. Ugwuanyi, commissioners, others review Budget 2016 performance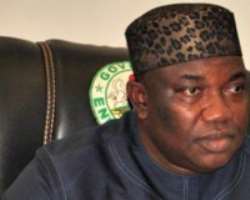 The Enugu State Executive Council on Tuesday at a one-day UNICEF-sponsored retreat x-rayed the state government's 2016 budget performance and its implementation.
Declaring the retreat open, Gov. Ifeanyi Ugwuanyi said it would afford the council the opportunity to x-ray the four point agenda of his administration.
Gov. Ifeanyi Ugwuanyi of Enugu State
Ugwuanyi said that as a firm believer in good governance, his administration was committed to giving the people a new lease of life.
He said he would not lose sight of his vow to enhance social services, provide development, as well as to ensure security and justice, among others.
'We will deploy government services to create an equal opportunity for every willing citizen to make a living, educate our children and enjoy peaceful life and secure environment.
'Our government shall forcefully drive investment promotion, revive the agricultural sector, provide critical infrastructure and encourage skills acquisition,' he said.
Ugwuanyi said that in spite of the financial recession in the country, his administration would continue to provide infrastructural development.
'With prudent management of resources, we have been able to make visible and successful efforts to address some of the pressing needs of our people,' he said.
The governor said that it had become critical to examine the performance of his administration with a view to identifying gaps and challenges to improve service delivery to the people.
'It is my belief that the outcome of this retreat will ginger us to work harder to bring about a holistic and sustainable development of our state.
'I thank our development partners for all their contributions toward the successful execution of the reform agenda of the government,' Ugwuanyi said.
Earlier, the Secretary to the State Government, Dr Godwin Ajah, said that members of the council must deliver on their mandates in consonance with their social contract with the people.
Ajah urged government officials at all levels to always give priority attention to issues of governance to lift the people out of poverty.
The retreat featured presentation of papers by development partners, including the DFID.