Ngige booed at Enugu for defending Buhari's 'lopsided appointments'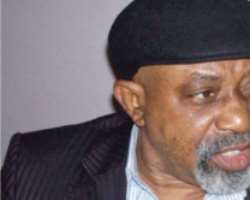 Attempt by the Minister of Labour and Productivity, Dr. Chris Ngige, to defend President Muhammadu Buhari's alleged lopsided appointments incurred the wrath of participants at a forum organised on Monday, by the Federal Ministry of Information in Enugu.
His argument was met by boos, causing the meeting to be halted for several minutes, as voices rose in condemnation, many accusing him of "betrayal".
In his words: "I do not believe that the President has been lopsided in his appointments. He has, in fact, as much as possible, tried to carry every segment of the country along.
Look at the ambassadorial nominations. Some states did not get. Enugu got two and nobody is complaining. States like Gombe that didn't get have not killed anybody.
"President Buhari chose people that he is comfortable with. If Buhari is not supporting Ndigbo, I will not be in his government. This government is managing the poverty the Jonathan administration left behind."
The crowd resorted to booing him when he said the Chief of Staff appointed by Enugu State governor, Ifeanyi Ugwuanyi, is his "brother from Nsukka".
Meanwhile, the Presidency, Monday, denied claims by The Telegraph of London that Buhari's appointments are skewed in favour of Muslims.
It also refuted suggestions by the tabloid that the administration is not doing enough to curb the activities of Boko Haram in the North East, and that it has been diverting international donations for displaced persons.
In his response to the July 29 edition of The Telegraph, the Senior Special Assistant to the President on Media and Publicity, Garba Shehu, in a statement in Abuja, said: "Since assuming office, President Buhari has treated all Nigerians without bias for ethnicity or religion as the composition of his cabinet and the policies and programmes of his administration demonstrate.
"To suggest his government is deepening Muslim-Christian division is not only untrue, but also plays into the hands of Boko Haram, who wish to divide Nigerians along religious lines."