Adamawa LG Polls: "APC Is A Political Armed Rubbery Party " Says PDP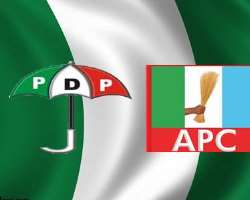 The People's Democracy Party (PDP) stakeholders of Gombi Local Government area (LGA) of Adamawa state has today In a press conference characterised the just concluded Local Elections in the state as a "Political armed robbery " done by the All progressives Congress (APC).
Hon.. Ahmad A. Abbo who is PDP Chairman of Gombi Local Government and appended his signature to the press release while reading to press men he said APC is "claiming to be fighting corruption in Nigeria but they have seen the worst corruption in Adamawa and in particular Gombi Local Government ".
They accused the former secretary of Gombi LG to filled his car twice with election materials sensed to might have received orders from above to carry out such election irregularities.
Also in their accusations they penned down one called Jamed to single handedly thump printed ballot papers of three units in one ward and took one other ballot box on his way to Gombi from Guyaku ward.
"With this information across the 10 wards, all we discovered was massive stuffing of ballot boxes in all the wards of the LG.
"There was no collation center because out of the 114 polling units in the LG people sited only 7 ballot boxes at different polling units across the LG
"Can 3 units claimed to have elections declare a Councilor or the total of 7 units out of 144 polling units in Local Government declare a chairman?
"We want to categorically said in all the 10 wards, no election was held and no result declared since no ward and Local Government collation centre was seen collating results. He said
He continued to say that the shameless actions of APC members makes them to confidently say that the "slogan "ADALCHI" by APC in Adamawa is fake and the corruption APC is fighting is not respected even by its members. What a shame and deceit to the masses of this country."
"We equally feel ashamed and disappointed with the action of the Assistant Electoral Officer of Gombi. He is incompetent, compromising and unpatriotic therefore does not deserve to be an empire in such a sensitive organisation like this. We are therefore demanding for his immediate removal as Assistant Electoral Officer in Gombi,consequently the state Electoral commissioner and his team should resign because of their failure to conduct a free and fair elections in the state". He added
An APC stalwart who is seen as arrow head of the election in the Local Government and a Member presenting the area, Alhaji Ahmed Rufai said PDP is just dead not only in Adamawa state but in the entire country.
"They are just loosing relevant, tell me from our last election to this one did they win any? From last presidential down to this very one none of the party made any impacts In my local Government talk more of this one that my people are very much of the know of how important it is to them Being the grassroot elections". Ahmed said