Okowa Halt Salaries Of LG Chairmen Appointees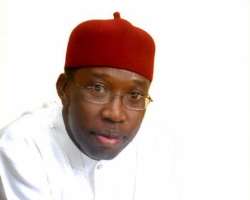 A local government chairman (name withheld) in Delta State has confirmed the news making the round that the state governor, Senator (Dr) Ifeanyi Okowa has stopped the salaries of local government chairmen appointees.
The chairman who spoke on condition of anonymity at a stakeholders meeting chaired by the Deputy Governor, Kingsley Burutu Otuaro in Government House Asaba, said, "Okowa instructed us to submit the names of our political appointees while the council workers were still undergoing biometrics by Heckerbella".
According to the chairman, "at the end of the screening for council workers, if allocation comes, the governor only releases the council's allocation base on the number of staff in the local governments, leaving the appointees".
However, Okowa has refused to do same to his over 2000 political appointees who are currently at large since he left the shores of the country for his annual vacation.
Some of the political appointees especially the media aides also went on annual vacation like their principal.
Heckerbella, is the consultancy firm engaged by the Delta State government to carrying out biometrics verification on civil servants in the state civil service.
In his response to a text message sent to the branch chairman, Association of Local Government of Nigeria (ALGON), in the state, Mr. Malik Ikpokpo, he simply replied thus, "That information is not true".