Tomfoolery And Falsehood: The Style Of An Uncouth And Inelegant Spokesperson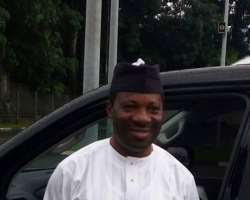 Each time I listen to my State Commissioner of Information and Communication, Mr. Austin Tam-George speak on any issue of state concern, I wonder with due respect what the Governor's considerations were for assigning this particular portfolio to Mr. Tam-George. Apart from the fact that his statements and thought pattern, most of the time, are illogical and incongruous, they are also manifestly false.
The only two excuses that come to mind in defense of my dear Honourable Commissioner for Information and Communication for his tomfooleries and inelegance is either that he has dialectical amnesia, in which case thought processing comes over voice (that is after the statement had been voiced out) or that he is a bad communicator that allows his emotion control what he voices, in which case reasoning does not take place at all.
Call it his folly or style, Mr. Tam-George was at it again, but this time with so much shenanigans. Shortly after the picture of the Honourable Minister of Transportation, Rt. Hon. Rotimi Amaechi and the Rivers State Governor, Barr. Nyesom Wike, in which they were captured in a hand shake went viral, Mr. Tam-George was up on Channels Television, in his usual self and tantrums, to blame the All Progressive Congress (APC) for the failures of his boss, Governor Wike; according to him, APC was trying to destabilize Rivers State Government.
As usual, in one swift but unprocessed statement, the Commissioner alleged that only APC members were been prosecuted in relation to the general elections in Rivers State. He was quick to cite Hon. Ojukaye Flag Amachree as the APC chieftain been prosecuted. Anyways, since Hon. Amachree's PERSECUTION is not the subject here, needless to remind Mr. Tam-George that the Police have not only said they did not investigate Hon. Amachree, but also that no such case file exists at all in their records against him.
Quite mischievously, Mr. Tam-George pretended to have forgotten that the highest ranking political appointee of the Governor Wike's administration, the Secretary to Rivers State Government was arraigned and is being tried in Rivers State for electoral offenses. Need I remind Mr. Tam-George that Hon. Kenneth Kobani is still the Secretary to Rivers State Government and he was arraigned and charged with several electoral offences, including what is described as terrorism. Perhaps Hon. Kobani had been dropped as the SSG and had also crossed to APC, hence my dear Tam-George never remembered to cite him as PDP member and that he is been tried for electoral offences and infractions.
In the same programme, Mr. Commissioner for Information and Communication, as if to chide the APC, said for every single "cult member" that was killed in Rivers State, the APC would claim them as its member. Like his boss the Governor, he emphasized again with the certainty of the rising sun that all those killed in Rivers State were "cult members". I ask Mr. Spokesperson of the Rivers State Government: are the tens of Rivers women and children that have been killed also cult members? Are all residents of the State cult members that would lead to such level of certainty and conclusion for every death. Even the manner that the Chief Information Officer canvasses his false and so called argument about "every person killed in Rivers State been a cult member" is not only poignant and alexithymic but it also questions his understanding of the role of Government and the constitutional burden placed on his boss, the Governor, to protect lives of the residents of Rivers State.
As if Mr. Commissioner was making a fantastically potent point or was speaking to an unintelligent audience, he unashamedly but audaciously poked the hearts of Rivers people with Governor Wike's so called solution to the killings, and he called it amnesty. It was, and still is, the most impious thought or decision ever held in the twenty-first century by any responsible Government; writing off the killings of hundreds of it's citizens as if going after their killer was a bad debt to the Government. To further insult the sensibility of his audience, Mr. Tam-George tries to create an impression that such a decision was taken in the best "interest of the people". What people, if I may ask? It is obviously not in the interest of the victims, their families and the state.
It was more out of an illicit political burden on Governor Wike to protect and cover up those by whose bullets and guns he shot himself into power than public interest. Otherwise, how else would my dear Commissioner explain that despite his personal knowledge and that of the Rivers State Government of the fact that over a hundred and fifty Rivers State youths, women and children, even if "cult members" as he claims, were killed by identified and identifiable persons, presumably by another set of "cult members in his argument, but rather than apply the appropriate sanctions in law to punish the evil and deter others, the Governor parts them on the back with amnesty, perhaps in anticipation of future engagement and patronage. Mr. Commissioner, I thought Rivers State had Cultism Prohibition Law or has our Governor also repealed that; I thought our State Government under Governor Wike was resolute about the prosecution of all murder cases hence the "persecution" of Hon. Amachree or are there different laws for different folks. May be I got him wrong, just may be Governor Wike's administration intends to prosecute all murder cases and not killings by "cult members."
My dear Commissioner, human life is not as trivial as you would want to make it seem. It should be inviolable. You cannot diminish the sanctity of human life or gloss over the apparent incapacity and inability of Governor Wike to govern Rivers State just by merely alleging that the APC claims every person killed in Rivers State as its member. That is begging the issue.
The real issue to address always is that Rivers people are being killed daily without proactive action from Government, whether they are APC members, cult members as you claim or just lunatic walking the streets; to have a hundred killed at all is worrisome. This is enough indictment on the Government, and to have the Government spokesperson trivialize such grave concern of the citizens is, to say the least, irresponsible and tomfoolery.
My dear Hon. Commissioner, when next you are on another eye-service mission, remember to inform the public properly and stop your "I couldn't careless" approach to serious issues of concern to the citizenry. You should care. If not for the sake of us the citizens, at least for the integrity of the Government that you represent.
Another free advice to my dear Riversman Commissioner.
Achi Godwin William-Wobodo is a Lawyer and Development Analyst.
Disclaimer:

"The views/contents expressed in this article are the sole responsibility of the author(s) and do not necessarily reflect those of The Nigerian Voice. The Nigerian Voice will not be responsible or liable for any inaccurate or incorrect statements contained in this article."