Igbo Community In Adamawa Commends Gov. Bindow And Military For Fighting Boko Haram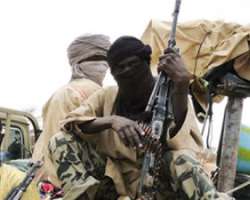 The leadership of Igbo Community Association (ICA) in Adamawa state yesterday commended Governor Muhammadu Umaru Jibrilla Bindow and Nigerian Soldiers for chasing away Boko Haram in the state.
The out gone President General,Chief Ofor Eze Nwachukwu said this in his handing over text addressed to hundreds of Ndigbo to witness the general election held yesterday at the ICA hall in Jimeta -Yola.
He begged Governor Bindow to consider the plights of the Igbos in all the returned recaptured communities of Gombi, Michika,Mubi, Madagali,Maiha and Hong LGAs as they have lost millions of Naira as a result of the Boko Haram attacks.
According to him the election have suffered several postponements since 2010 due to one reason or the other, considering the success of the election as one of his happiest day in his life.
The election which was peacefully conducted amidst joy delegates representing the 21 LGAs of the state have certified the exercise to be the most free and fair ever conducted.
In his acceptance speech after the swearing -in ceremony by Barr Godwin Igwe, the new coming President General of the Association, Fedelis Umeh said he was decked with Joy to see the turn out of the whole delegates representing every Igbo state in the country has humble him and promised to carry everybody along for the peace and progress of the Union.
Appreciating the entire Igbos counting on their support for him to lead them well.
"I'm shock ! I lack what to say for me to polled 74 votes out of 80 as the total votes, it shows my people truly like me and make sure I carry all Igbo people alone ".He said
Others who were sworn -in are Emmanuel Nwaunzo as the Vice President, Kanu Odumu became the Secretary, the post of the Treasurer went to Emmanuel Nwaoneyeigbo while the post of PRO and Social welfare goes to Basil Okoro and Odera Ama respectively.