I'm not planning to run against President Buhari in 2019: Atiku Abubakar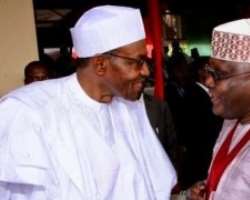 Former vice president Atiku Abubakar has rebutted reports linking him to the formation of a new political platform with  Governor Olusegun Mimiko of Ondo state with a view to taking over  power from the ruling All Progressives Congress  in the 2019 presidential poll.
Atiku described the report imagination presented in the garment of truth.
The former vice-president and one of the leading lights of the APC, in a statement by his media adviser, Paul Ibe,  said the report represent the features of a political hatchet job planted by his opponents who are desperately trying to invent events. Atiku claims the report is also aimed at drawing a wedge between him and President Buhari on one hand and the APC leadership on the other hand
"The report was an incompetent product of fiction, so shallow and vacuous that even its authors could not validate its credibility with reliable and verifiable sources. "Some people of bad faith trying tooth and nail to spread the seeds of discord in the party, and destroy the much needed unity, harmony and cohesion, which are the pillars of strength for every political organisation," he said.
The statement also stated that despite all the smear campaigns and reputation lynching and sponsored falsehoods, Atiku's loyalty to President Buhari and the APC leadership would not be shaken an inch.
Atiku said he would have  ordinarily  ignored the malicious report, but he chose to react, lest his silence would be mistaken as an admission of the falsehoods published against him."
Reports had emanated that the key figures in the ruling APC are mulling what a source called 'a strong third force'.
There have been persisting speculations about a third political force being forged by politicians of both People's Democratic Party  and the APC extractions, with those behind such moves remaining in the realm of speculations.