OGONI 4th Anniversary of Self-Government Declaration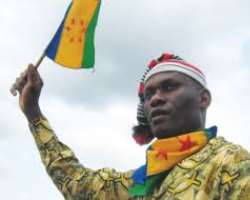 As Ogonis prepare to mark the 4th anniversary of the Self-Government Declaration; an official statement said the Ogoni Central Indigenous Authority succeeded in the past years; to lay a solid foundation for the future progress of the Ogoni people.
Ogoni declared self-government on the 2nd of August, 2012 to enforce the United Nations Declaration on the Rights of Indigenous Peoples.
This year, the main event scheduled for Tuesday, August 2, 2016 at the Ken Saro-Wiwa Peace and Freedom Center, Bori; will feature numerous events as well as special entertainments from 7AM to 6PM .
It will also feature cultural displays, musical performances, and presentation of certificates of awards to participants of creative and leadership programs initiated by OCIA.
Events leading to the grand finale included governance and management training programs, documentation for Ogoni Data Bank, district restructuring, as well as, elections members of Ogoni Central District Assembly, comprising of 33 units.
In a statement, the secretary of the 2016 anniversary, Hon. Beabubari Gospel Ndorbu, said the Ogoni Central Indigenous Authority has been joined by 13 other bodies, including Council of Ogoni Traditional Rulers, Ogoni Civil Society Commission, Indigenous Youth Leadership Council, Ogoni Women Empowerment Agency, and Council of Ogoni Churches as sponsors of this year's observance.
The President of the Ogoni Central Indigenous Authority, Dr. Goodluck Diigbo, will chair the occasion.
Tambari Deekor
Special Adviser on Public Affairs
Ogoni Central Indigenous Authority.
[email protected]