Feeling Unmotivated? This Should Help You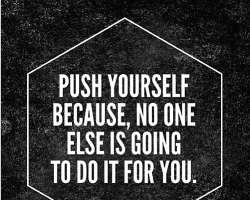 When most people just start a job, they are energetic and eager to work; meeting deadlines on time and being ready for more responsibility. However, as time goes on, they begin to lose the drive and motivation, and they start to become indifferent to deadlines, goals and gaining more responsibility in the organization.
This usually happens when a person has become too used to what he/she is doing and doesn't feel the need to push more than necessary. Having this kind of 'I-don't-care' attitude to your work is not a good thing, as it can negatively affect the way your co-workers and even your boss see you.
You might be passed up for promotion when they ask for recommendations on who deserves one. It is important that even if you have been performing the same role for a long time, you reinvent the way you handle your tasks, and challenge yourself to go above and beyond your personal limits. These are some ways to keep you motivated and productive at work.
Set deadlines for yourself- If your boss gives you a deadline of two weeks, try to push yourself to get it done in a week and a half. This way, hard tasks get easier to manage, and you are able to handle more.
Interact with your colleagues- Apart from breaking up the monotony of working all day, relating with your colleagues can help you to gain insight on issues that you might be facing at work, and they might have solutions to some tasks you have been battling with.
Not every task is important or therefore, you need to make a schedule and a to-do list that shows you the things that need to be handled immediately, and things that can wait. Also, multitasking is never a good idea, because when you don't give a hundred percent, you don't get the desired results.
Set goals and reward yourself for achieving them. Goals are the most effective way to make sure you don't get unmotivated. For example, if you are a writer, and you produce three articles per week, set yourself a goal to produce twenty articles at the end of the month. Then comes the reward part- give yourself something that you normally wouldn't be able to. This might be a getaway, a shopping trip or a night out at your favorite restaurant.
As much as you are encouraged to take responsibility and push yourself, try to remember this- if you feel like the workload is too much, it's okay to say you can't handle it. It's better to admit weakness than to totally mess it up just to prove a point.