ASUU Strike: The Insensitiveness Of Bayelsa State Government On Education Sector
…NANS Gives Bayelsa State Government 7 Days Ultimatum To Resolve With Niger Delta University Lecturers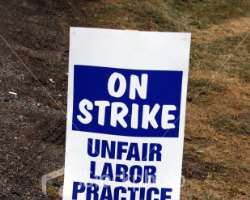 The National Association of Nigerian Students (NANS) Zone B, frowns at the continued stay at home of our fellow students of Niger Delta University, Wilberforce Island for a fault of not theirs.
Niger Delta University Students, have been at home for over two Months, occasioned by the failure of Bayelsa State Government to come to terms with the Academic Staff Union of Universities (ASUU), Niger Delta University Chapter.
It is on record that these lecturers are been owed over five months salaries by the State Government, and the question is, how do you expect these lecturers to cope with the current economic situation in the country without salary?
The failure of Bayelsa State Government to prioritize Education is a source of concern to NANS and therefore demand a change of attitude by the government of the State.
Bayelsa State Government in tacit demonstration of their non sensitiveness to University Education, mobilized hoodlums to attack the Student Union Government President of Niger Delta University, Comr. Ekiye who led the students of the University to protest against the unnecessary stay at home by the students, these hoodlums equally stole the properties belonging to SUG President and the students.
It is sheer wickedness for the Government of Bayelsa State to be watching while the institution is yet to write her first semester examination for 2015/2016 academic session, while most institutions in the country are rounding up their academic session.
NANS condemns this barbaric act by agents of Bayelsa State Government and hereby give the government 7 Days to resolve with ASUU-NDU Chapter in order to get our students back on campus or NANS will lock down the Government House and ground all economic activities in the State.
Dare to struggle!!!
Dare to win!!!
Pedro Obi,
Coordinator,
NANS Zone B
+2348062467312