Imo North re-run: INEC worse than Boko Haram – Ohakim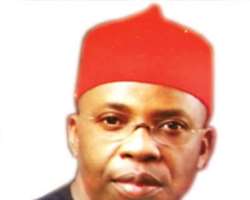 Former governor of Imo State, Chief Ikedi Ohakim has described the action of the Independent National Electoral Commission (INEC) in last Saturday's Imo Senatorial re-run as not only disgraceful, but worse than Boko Haram.
Ohakim who said he was miffed by the disgraceful conduct of INEC officials, who allegedly colluded with the All Progressives Congress (APC) to subvert the will of the people of Okigwe zone, warned that robbing the people of their choice was a recipe for cri­sis.
In a press statement yes­terday, the former gover­nor noted that the re-run election, especially those of Isiala Mbano State Con­stituency and Okigwe Sen­ate seat were characterised by massive manipulation of polls results, non use of card readers, snatching of ballot materials at gun point and other crude and stone-age styled electoral malprac­tices
'One of the strategies adopted by those who are aware that they cannot win elections except through mindless rigging and sub­version of the will of the majority is to, in connivance with their stooges at INEC, cause the disappearance of collation officers deployed and paid for with tax payers money to ensure that the votes of the people count and the will of majority of the people prevails.
'Security personnel, especially the Police and Army or those impersonat­ing them, were found to be shamefully involved in the criminal act of snatching electoral materials, stuffing of ballot boxes and intimi­dating innocent electorate.
'Introduction of card readers in our electoral cul­ture has been applauded by various local and inter­national organisations as a powerful tool in checkmat­ing electoral malpractices.
'It is, therefore, disturb­ing that majority of the per­sonnel deployed for the last re-run election deliberately and mischievously failed to put these card readers to use, and in the few places where they were put into use, the results returned did not correspond with the record of the card reading machine.'
Ohakim alleged that the desperation of Governor Rochas Okorocha to impose his party's candidate on the people made him deploy the resources during the elections and use of security agencies to intimidate those perceived to be against his unpopular choice.
'The incumbent Gover­nor of Imo State, Rochas Okorocha did not keep anyone in doubt about his desperation to impose his party's candidates on the people during these elec­tions, as he deployed state resources to the areas af­fected by the rerun election and took steps to stampede ordinary citizens who are perceived not to be support­ive of his party's candidates.'
Ohakim also alleged that Okorocha, through his pub­lic broadcasts and actions made it clear that he did not bother about the wishes of majority of voters, but was strictly interested in pursu­ing an ego battle between him and some perceived and real political rivals in the state.'