I Will Sue Oritsefemi if He Doesn't Pay My Money- Puffytee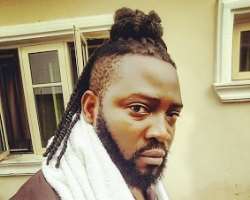 Now that the two elephants have finished the public fight; Babatope Temidayo, aka Puffytee,is asking that Oritsefemi to pay him his money. Puffytee was the producer of  Mayorkun's hit single, Eleko and has contributed to producing Oritsefemi's album.
Danku and Oritsefemi are now friends which is the more reasons he is asking for his money.'When this feud started, Danku told me not to worry that everything will be fine, so I left and continued working on my other projects. I'm asking for my money now because they have settled. I didn't reach out to Oritsefemi because I and Danku have been working on other projects together.'
He added ' In fact, I didn't even think of reaching out to him, basically it's just time, I felt when the right time comes I will ask for my money, and the right time is now. If they don't pay me I'm going to sue them straight up because it's my money and I worked hard for it. To produce 15 tracks on someone's album is not a joke, so they can't tell me there is no money, they go for shows, the songs are on ITunes and caller tunes, and no matter how little it is, money is coming in. The money made from songs on caller tunes are meant to be shared between the artiste and producer because it's not just the vocals that is downloaded but the beat. So, as long as he's making money with those songs I produced, he can be sued', he said sternly.