OSUN 2011: WE WANT A MUSLIM GOVERNOR – ISLAMIC CLERICS DEMAND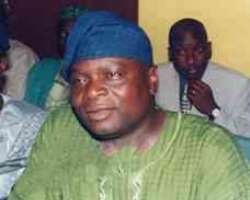 Governor Olagunsoye Oyinlola
Islamic clerics in Osun State, yesterday, demanded a Muslim as the successor to Governor Olagunsoye Oyinlola in office come 2011. Speaking through the President-General, League of Imams and Alfas in Yorubaland, Edo and Delta States, Shayhk Mustafa Ajisafe during a courtesy visit by members of the league to Governor Oyinlola, the clerics said their demand was borne out of a gentleman agreement between them and Oyinlola in 2007.
But the governor stated that he did not have the power to unilaterally pick a candidate for the party, saying there were party procedures to be followed, especially party primaries.
'So, under this circumstance, it may be difficult to pick somebody and say this is what I want. It is what the party wants and there is procedure for the emergence of the candidate. That is why I say the Muslim community must encourage and support a Muslim candidate to win and become the party candidate through his success at the primaries. That is the starting point.
'He needs to win the primaries. That is, he needs the support of all the people in the party to say 'you are the one we want'. It is not a thing for governor to select,' the governor stated.
Earlier in his address, Shaykh Ajisafe had applauded the governor for fulfilling 'a larger percentage' of the 'points of agreement' reached with them in 2003 and 2007, describing the governor as responsive and responsible.
'It is, however, necessary to remind Your Excellency that one of our collective points of agreement in 2007 was to have a Muslim governor in 2011. We feel that this important point of agreement should not be jettisoned in the interest of justice and fair play and for the sake of fulfilling one's pledge. Our commitment to this is never going to be forsaken in 2011,' the renowned Islamic cleric stated.
Shaykh Ajisafe commended the governor on the establishment of Osun State University (UNIOSUN) and the recruitment of Arabic and Islamic teachers in the state primary schools to boost religious education.
He, however, urged the governor to tap the God-given resources of the state by giving priority to agriculture and consequently reduce the poverty level in the state.