I have been vindicated that National Assembly members are corrupt: Obasanjo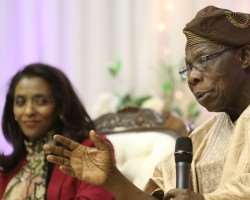 Former President, Chief Olusegun Obasanjo,  has said that the ongoing controversy, allegations and counter allegations over budget padding at the National Assembly had vindicated his earlier postulation that the national legislature were peopled by crooked persons.
According to him, there is no better vindication of his position than the emerging revelation on the padding of the 2016 budget in the National Assembly.
Obasanjo, who spoke with State House correspondents shortly after meeting with President Muhammadu Buhari at the Presidential Villa, Abuja, on Monday.
The former president had in January  written the National Assembly accusing the lawmakers of corruption, impunity, greed and of repeatedly breaking the nation's laws.
In a letter dated January 13 and addressed to the President of the Senate, Bukola Saraki and the Speaker of the House of Representatives, Yakubu Dogara, the former president specifically accused the lawmakers of fixing and earning salaries and allowances far above what the Revenue Mobilisation Allocation and Fiscal Commission approved for them.
He also alleged that most of the 109 senators and 369 members of the House of Representatives were receiving constituency allowances without maintaining constituency offices as the laws required of them.
Mr. Obasanjo was president between 1999 and 2007.
The septuagenarian  declared that the best way out of the current mess was to ensure that only men of integrity are elected into the National Assembly.
It would be recalled that at a 2012 event in Lagos attended by two former Nigerian leaders, Yakubu Gowon and Ernest Shonekan, Obasanjo had described the National Assembly and state Houses of Assembly as institutions filled with "rogues and armed robbers."
The ex-president went on to tell the reporters who met with him at the Villa today that he was sure that the fresh revelation would make those who did not believe him when he made his first statement to do so now, stressing that there is no need to investigate the allegations and counter-allegations of the 2016 budget padding in the National Assembly.