I have no regrets about my predictions about Jonathan fall: Father Mbaka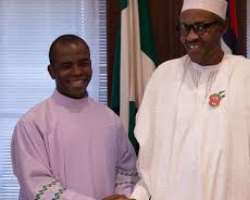 Enugu Catholic Priest, Rev. Fr. Ejike Mbaka, has said he has no regrets over his 2015 prophesy of change, where he had pre­dicted that former Presi­dent Goodluck Jonathan would be defeated in the last general elections.
Mbaka, which refuted claims that he fell apart with Jonathan over the latter's refusal to grant his request for oil well as "lies from the pit of hell," insisted that his prediction was purely as received from the Holy Spirit.
He said he would not regret the 2015 change prophesy despite the current sufferings Nigerians were experiencing.
According to the priest,  he had also on several occasions released prophecies on the current hard times bedeviling the nation. He maintained that the previous administration, which ran a wasteful government should be held responsible for the present situation.
Incidentally, Mbaka had before the prophesy spoken in favour of the former President Jonathan.
He said,  "when these prophesies come, it must not be what people think or want; people are entitled to their views; those reactions mean nothing; the important thing is that there is nothing he had prophesized which never came to pass; the ministry does not care how people feel about his prophesies. Some call him controversial priest; some call him fiery priest and all that, they are entitled to their opinion.
The fact remains that he is a true prophet "I will tell you something, it is not for us human to judge prophesies; he was the only person who said Buhari would win; if it were in the olden days, all those so-called men of God who castigated him would have received the wrath of God immediately. All of them should be ashamed of themselves now. "When you look at that prophesy on Jonathan, he gave it and it came to pass; don't forget that two months before that Prophesy, Jonathan's wife came to the adoration ground; that is to tell you that the prophesy came from God; if after such visit, he had the courage to reveal such prophesy against them, that tells you that it is much more than what people think; whether the prophesy is a good one or not, talking about the suffering, it has nothing to do with the prophesy.
"Before Buhari took over, the dollar was rising, there was already problem with our economy.‎ They had oil boom bit never saved; just wasted the opportunity. Even the suffering we are talking about was part of his prophesies; I recall that in 31st of January this year, he said clearly that Nigerians should brace up for hard times, he said a lot of hardship was under way; this suffering Nigerians are passing through are process of change. I'm seeing a great future for Nigerians; he made it clear that there are so many holes which needed to be filled."
When asked whether Mbaka could then be described as a prophet of doom, he said: "No way; he is not a prophet of doom; you can't say that this is a government of doom; this is a government that has unearthed a whole lot of things; the other government had oil boom, which they squandered, they handed over oil doom to this government; we are no longer talking of excess crude; this is what the present government is facing." Speaking on stories making the rounds that Jonathan rejected his request for an oil well, he stated that "these are lies from the pit of hell; these were used to water down the prophesy because people did not understand. It was even alleged that he received N5m from Buhari; you begin to wonder what is N5m to Mbaka. Is it the school fees he is paying for hundreds of people? This is all propaganda. "There was also these claims of meeting with APC chieftains before the election; he never held any such meeting; he never met Buhari before the election, there has never been any communication between them; what he has already is bigger than oil well; he is a musician and the ministry is being sustained with that." On the issue of his prophecy that former Enugu Governor, Senator Chimaroke Nnamani would not win second term, he gave reasons for the non-fulfillment ‎of the prophesy thus: "People who are saying this do not know what happens; a prophesy may come but people may not know what happens in between the period it was supposed to manifest; we have a man in the Bible, who God prophetically told that he would die; however, when he prayed, God extended his number of years. READ ALSO: Fr. Mbaka has vision about Buhari, what he saw was terrifying "So, in the case of Chimaroke, it is true that Mbaka said Chimaroke will not come back; but after that prophesy, the Church authority mandated him to celebrate a mass of forgiveness for Chimaroke. He celebrated that mass; remember it is God that answers prayers. So, the mass of forgiveness, which he celebrated under the mandate of the diocese is the main reason the prophesy did not come to pass. "People are saying a lot; recently, they even said he didn't go to Nimbo because of fear. But the truth is that he said the Holy Spirit asked him not to go; he said the trip will continue but that he will send delegates; there could have been so many reasons; he is not a coward; the ministry went there with three truck load of assorted materials; so are you saying he sent other people to be killed? He would have called off the trip if it had to do with herdsmen; it was purely the voice of the Holy Spirit; the other time he was to go for crusade, he called it off. "So, the light of these, we shall be celebrating him this week. He is celebrating 21 years of miraculous life; 21 years of consistent miracles; 21 years of prophesies that have manifested- the change prophesy, the oil doom and all that; he is also celebrating 21 years of charity; the celebration is not for him; it is for all those who have benefited so much from his ministry. "On several occasions, there have been plots to assassinate him but God has continued to protect him; he has survived harsh criticisms, assassins' bullets, bombs, among other things; God keeps saving him‎."